GReminders 'Meeting Category' option does more than organize your event types – it syncs with your Activity Categories in Redtail as well. This article takes you through understanding the GReminders Meeting Category option, Redtail's Activity Category overview, and setting up the ability to map Meeting Category to Activity Category.
GReminders Meeting Category
GReminders Meeting Category feature sits beside Meeting Type in the Event Type build options. Without integrating Redtail on an organizational level, you can use Meeting Category as a way to track Event Type criteria. There is an Event Category reporting option on the GReminders platform in Usage Reports.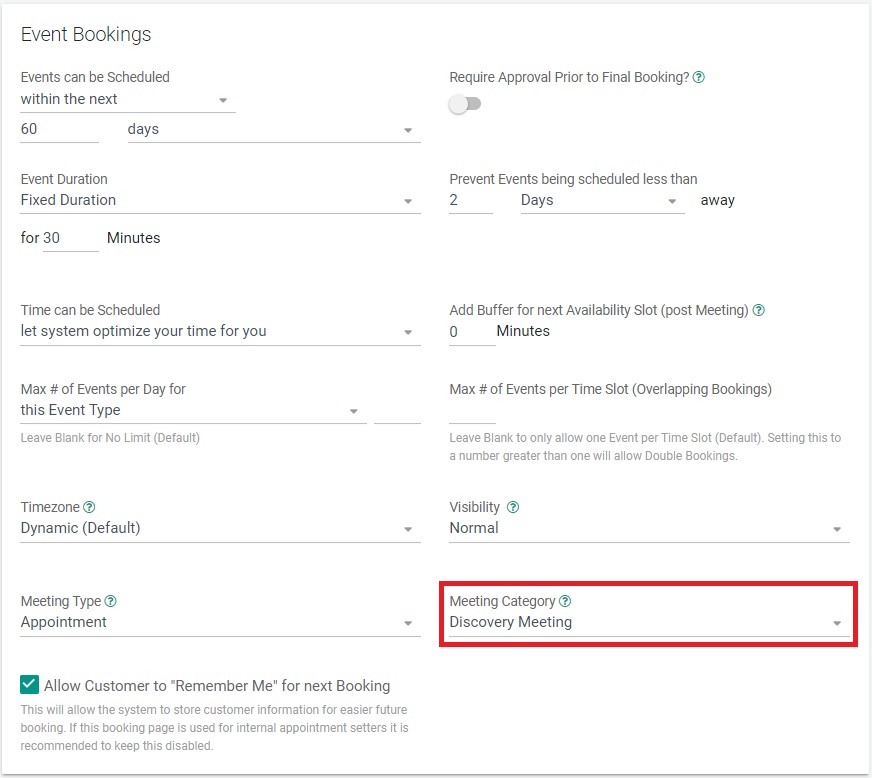 If Redtail is integrated on an Org level in GReminders, you can map your Meeting Categories to Activity Categories by selecting the option in the integration settings. Your meeting Categories will sync nightly.
Redtail Activity Category
Redtail Activity Categories are commonly used as a measure of reporting. Sometimes, Redtail users will use them to automate actions in their CRM when an Activity Category is changed. It's important to remember that activity Categories are the same categories as Workflow Categories and Note Categories. This is intended as a way to keep data clean and consistent as well as find information quickly.
GReminders will already launch workflows on our end, no need to set up automations for those. However, there are a myriad of actions you can automate when Activity Categories are changed, which is why this feature is so powerful.
Setting up Redtail Activity Categories within GReminders
As mentioned above, in the Integrations subsection of Org Settings on the GReminders platform, you'll find your Redtail CRM integration. If it's set up, it will show as "Connected". If you click on the Redtail integration, menu options will appear to change the way we talk back and forth to your CRM. You'll see an option to "Sync Redtail Activity Categorie with GReminders Meeting Categories Nightly?". If this feature is enabled, you'll see a dropdown option in the Event Type build-out to assign a Meeting Category for the specific Event Type.
Event Meeting Category Activity Report
Within GReminders, you'll find under Team Management, a subsection named Usage Reports. Here, you can pull reports against various criteria in the GReminders platform. Event Meeting Category is an available report and can generate a monthly report based on the number of Event Types scheduled with specific meeting categories.
GReminders is able to sync directly with your Redtail Activity Categories. This feature boosts reporting availability, makes automatic changes to your CRM, and keeps your data scrubbed and clean. With this ability, your best practices received an upgrade!
For more information on this integration, you can schedule a call with us HERE.