Effective client communication in business is important and appointment confirmation is absolutely essential.
If you are in an appointment-based business where meeting with clients or potential clients is critical to your success, ensuring that your clients understand when and where an appointment will take place has to be a top priority.
Automated Appointment Confirmation
The old way to accomplish appointment confirmations was to call your clients directly to remind them of their appointments and confirm that they plan on attending. While this was effective, it was very time-consuming.
With automated appointment confirmations, you eliminate the time it takes to call individuals but still accomplish the goal of reminding clients of their appointments and receiving appointment confirmation.
Setting up an Initial Appointment Confirmation when Clients Schedule Themselves
If you use an automated online scheduling app, you can include an initial appointment confirmation email during your event setup.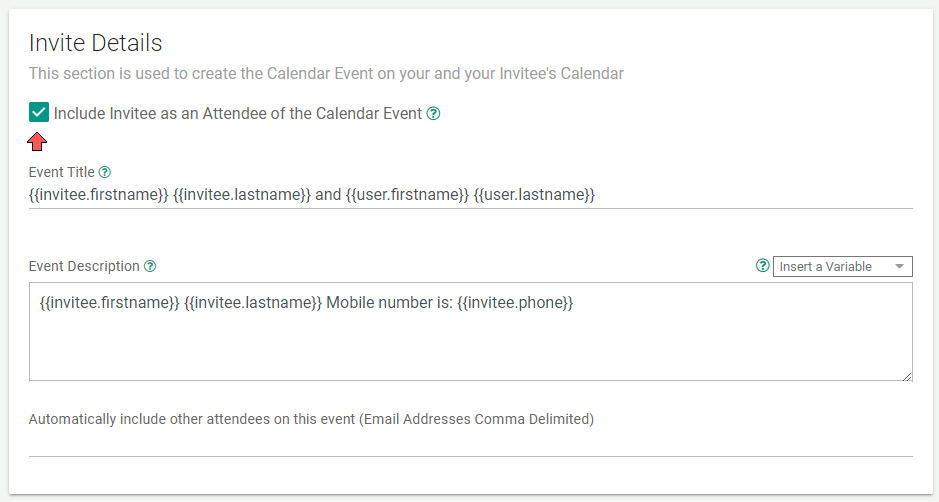 For example, in the GReminders Event Type set up, be sure that "Include Invitee as an Attendee of the Calendar Event" is checked. Then, when your clients schedule appointments with you online, they will receive an invitation similar to the examples below:
In Gmail: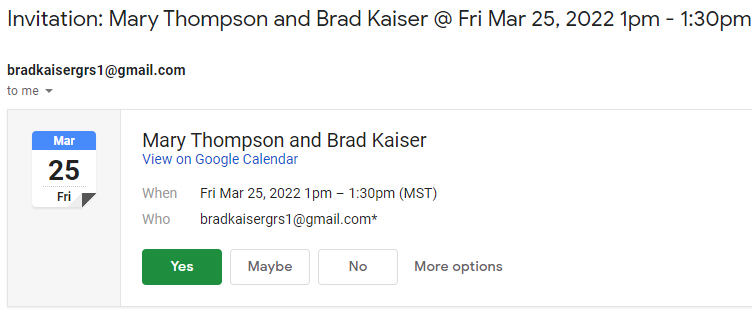 In Outlook

In Gmail and Outlook, your clients receive an invite and can confirm the appointment by clicking "Yes". When they do, you will receive an appointment confirmation email, and can see the confirmation in the calendar event as well.
Sending a Calendar Invite with Appointment Confirmation When Scheduling Manually
You can also send an invite with an appointment confirmation email when scheduling manually. Create an event and click on "Add Guests". Type in the guest's email address you would like to add to your event.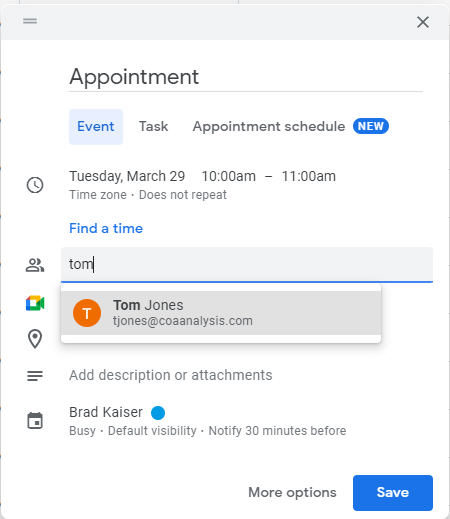 When you save the event, you will have the option to send an invite to the guest you have included:

Adding guests and sending an invite in Microsoft Outlook is similar to Google.
The Problem with Initial Appointment Confirmation Requests
Appointment confirmation immediately after clients schedule a meeting with you doesn't carry a lot of weight. It primarily serves as a way for clients to confirm that they agree with the date and time the appointment was scheduled and perhaps the location but has very little to do with confirming that they intend to show up. The further out you schedule a meeting, the less value an initial appointment confirmation will have.
When to Send Reminders with Appointment Confirmation
There are two or three times during the appointment scheduling process that you may wish to send appointment reminders with the ability for your client to confirm.
When an appointment is scheduled. As we discussed previously, you can schedule an appointment confirmation email at the time you schedule a meeting with your client. This is primarily used to confirm when and where the appointment is going to take place. This is not the time to have your client confirm whether they will attend since typically, they would have just scheduled the meeting with you and you can assume they plan to show up at that time. You can accomplish this with the "Initial Booking" purpose in your reminder template.
A Day before the appointment. It is highly recommended that you send an appointment reminder that includes an appointment confirmation request sometime during the day before the scheduled meeting. When using GReminders, you can send the reminder 24 hours in advance or select a specific time, like 4:00 pm. Include a statement similar to, "Reply yes to confirm."
1-2 hours before the appointment. If you are meeting with your client in person, you may wish to send a reminder within two hours of the appointment. This provides enough time for your client to prepare for your meeting and leave on time. Using GReminders advance criteria, you can also send a reminder based on whether the client has confirmed the appointment. Depending on the confirmation status, you may insist that they confirm when receiving this reminder.
10 – 15 minutes prior to your meeting. If you are meeting with clients online using Zoom, WebEx, Google Meet, etc., you should send a reminder within 15 minutes of the meeting and include the online meeting link. Do not give the option to confirm or cancel with this reminder.
What Type of Reminders and Appointment Confirmations Should You Send?
Choosing the best method for sending reminders with an appointment confirmation can help you achieve your desired goals. Using GReminders, you can send SMS text reminders, email reminders, and voice reminders. Each method can serve a specific purpose.
SMS Text Reminders. By far, the most effective way to get your clients' attention is to send a text reminder. According to MessageDesk, the open rate of text messages is 98% compared to only 20% for email and a 45% response rate compared to only 6% response rate for email messages. This means that if the goal is reminding your clients of an appointment and requesting an appointment confirmation, SMS text messages are the sure choice.
Email Reminders. GReminders allows you to send email messages at the same time you send a text reminder. Email is a great way to communicate more detailed messages, you just want to make sure that your client opens the message. So if you need to include additional information, just mention in your text message that more information has been sent in an email. This will greatly increase the likelihood of your client opening the email to access the information.
Voice Call Reminders. While voice call reminders are not used nearly as widely as either text message or email reminders, they still serve an important role in some situations. For example, if your clients are not typical users of smartphones or computers, then your only option is voice call reminders. You can use voice call reminders to communicate via smartphone or landline and if the person is not available, a message will be left on voicemail. Clients can also confirm their appointments by pressing 1 on their phones.
Receiving Notifications from Appointment Confirmations
Using GReminders, you have the option of how you would like to receive confirmation notifications when sending a reminder with an appointment confirmation request. You can receive an appointment confirmation email or an appointment confirmation text message. If you have multiple users on your GReminders account, each person can receive their own notifications by whichever method they choose.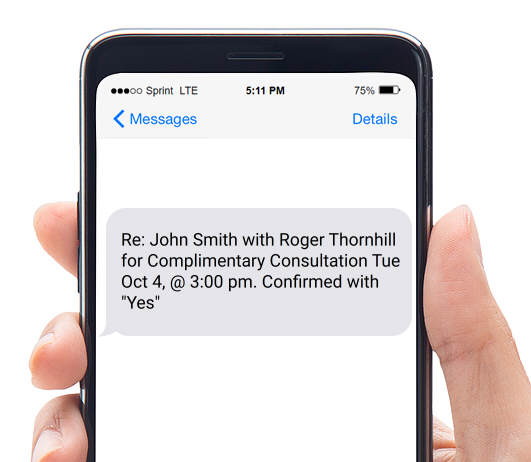 You can also receive appointment confirmation on your Google Calendar or Microsoft / Office 365 Calendar.

Send Additional Reminders When Appointment Confirmations are Not Received
Receiving confirmation that a client will show up for an appointment is important. It helps you schedule your time more efficiently and ensure that you're ready for upcoming appointments. If you don't receive a reply, either confirming or canceling an appointment, you can automatically send additional requests for confirmation.
Reminder Template to Urge Appointment Confirmation
The SMS text reminder template below is designed to only trigger when a client fails to confirm an appointment.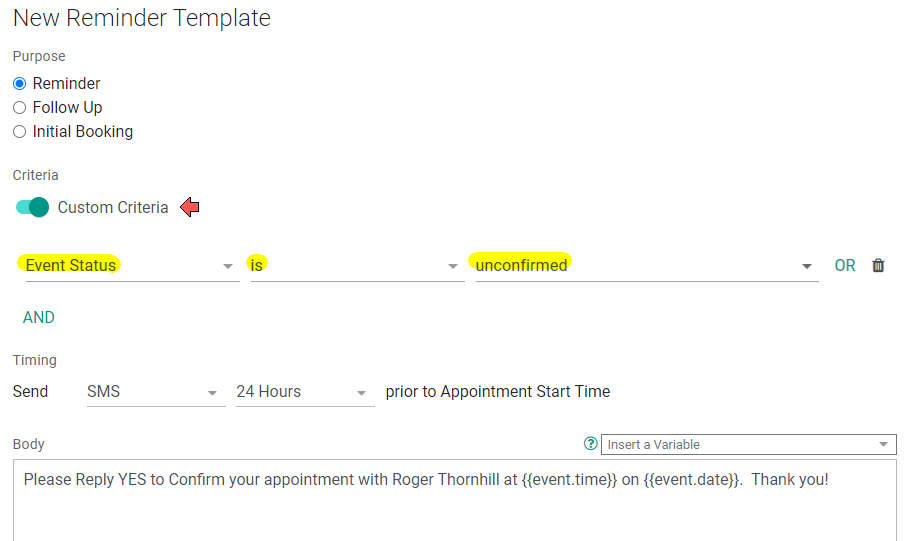 GReminders' advanced criteria feature set to "Event Status is unconfirmed" will trigger a reminder like, "Please Reply YES to Confirm your appointment with…" Only clients who have failed to confirm their appointment will receive this reminder.
Asking clients to confirm their appointments, receiving appointment confirmation notifications, and reacting when clients fail to confirm are critical to the success of your appointment-based business. Learn how you can incorporate an automated appointment reminders system into your business workflow. Start a free trial of GReminders today.
If you have any questions, please contact us. For one-on-one help setting our system up during your trial, just request a system setup call when you sign up for your free trial.
Happy Scheduling.