As you may know, GReminders supports Zoom integration out of the box. Here you can allow your customers to automatically book a Zoom meeting or Zoom Webinar with you AND/OR GReminders parses your existing Appointments and Meetings from Google Calendar or Outlook/Office 365 and automatically pulls out the Zoom Join link for your customers, which you can of course use within your Email or SMS Reminders that you send out.
As of now GReminders also supports Zoom Event Registrants. If you enable this feature on your Zoom Meeting, it requires your clients to pre-register, which comes with the benefit of you being able to approve registrants AND also gives each Registrant their OWN Web Meeting Join Link.
Let us take a look at how you do this in Zoom.
From the Zoom Meeting screen click Create New Meeting and click REQUIRED in the Registration section as seen below: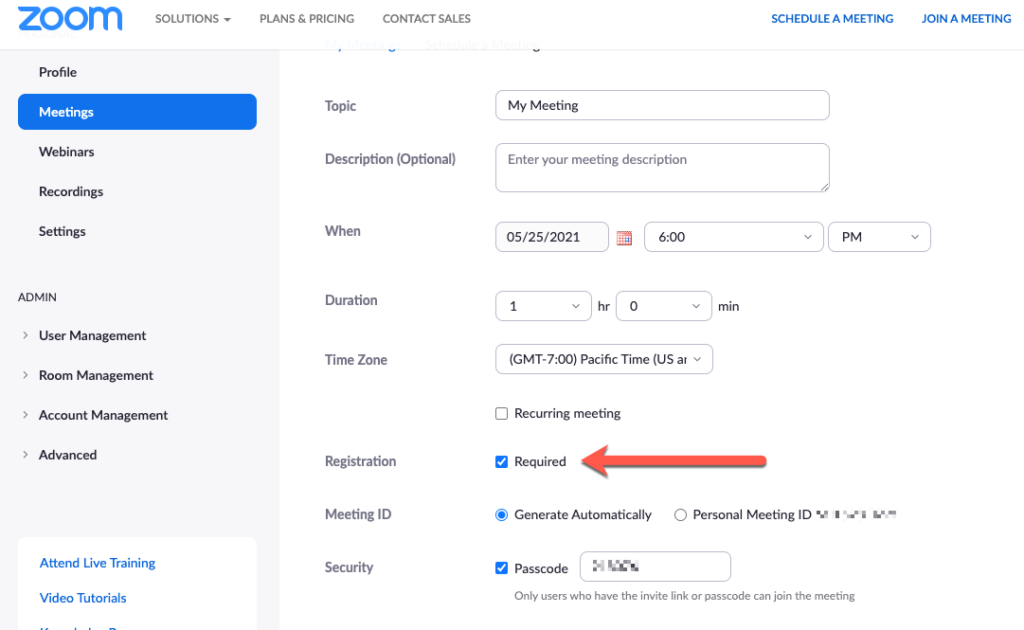 Click Save.
Next, make sure you Add this Event to your Google OR Outlook Calendar.

Next, make sure you collect a phone number for your registrants (in case you want to send SMS Reminders, vs just Email Reminders). Click the Edit link next to Registration Options:

Require Phone Number and Country/Region and any other fields you wish to collect from your Customers. (Country is very helpful when trying to validate Phone Numbers):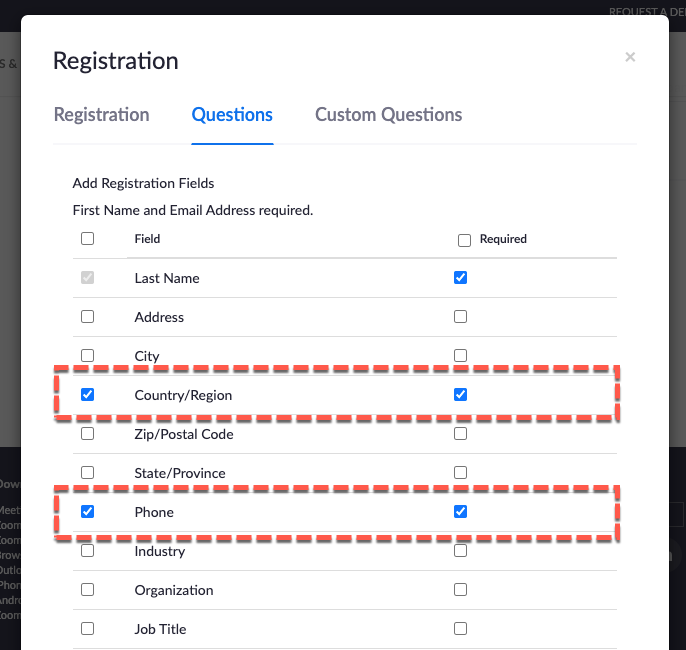 Hit Save All at the bottom.
Next, you will want to send your Registration Link to your Customers: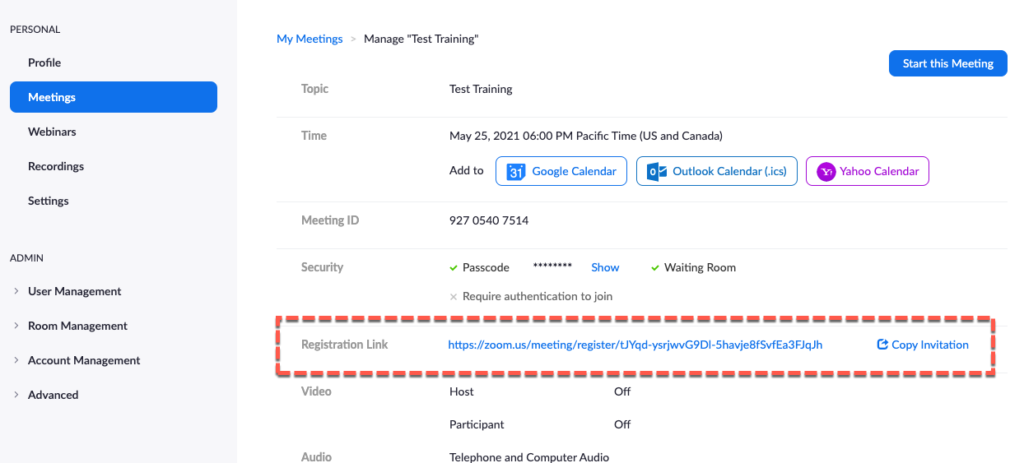 You can now take this link and send it to your Participants, include it in a newsletter or marketing blast.
When customers click on this link it will look something like: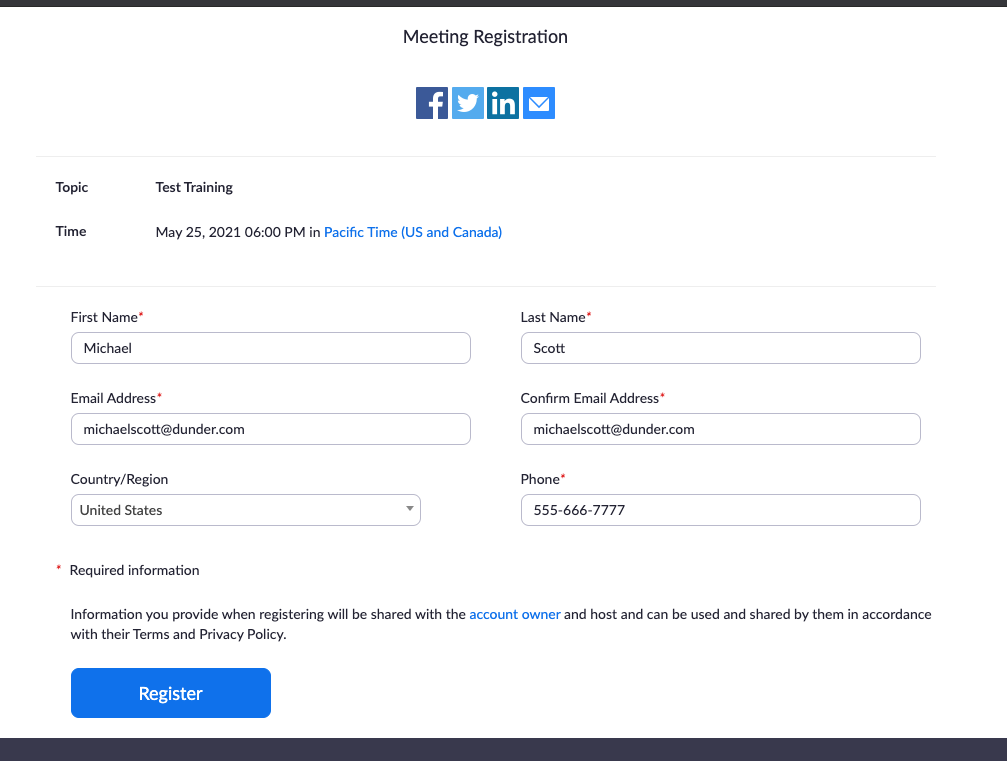 They fill in their profile and then get redirected here: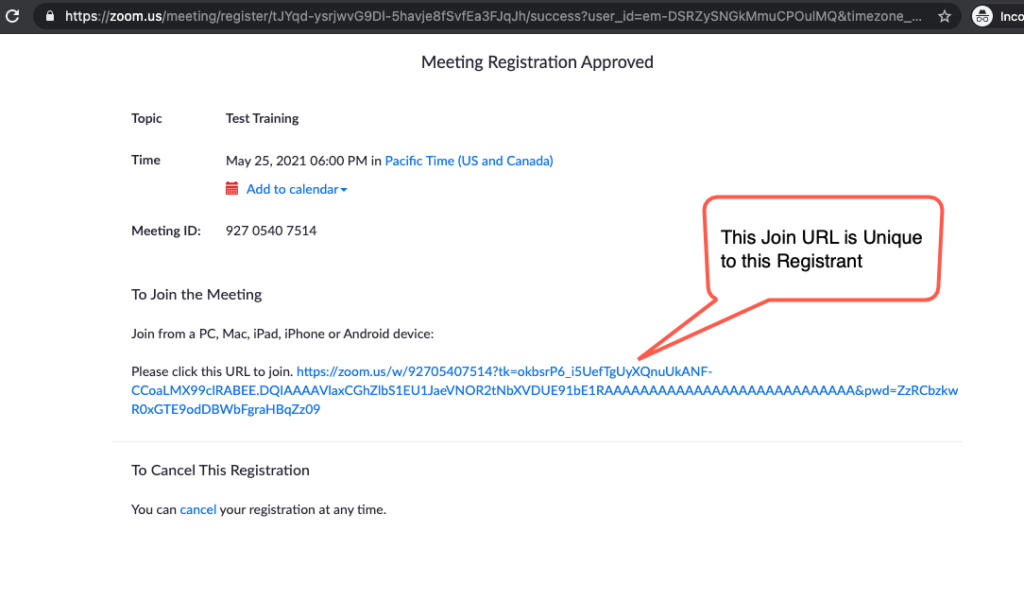 This link that is presented is a UNIQUE link that will automatically join them to the Meeting when its held.
In the Zoom Meeting product, there is no real way to send all these participants a Reminder (GReminders to the rescue, keep reading…).
In Zoom Webinars (which is a different product than Zoom Meetings) you can send Email Reminders via Zoom but the functionality is pretty limited (1 hour, 1 day, 1 week type reminders).
This is where GReminders comes in. As long as you have your Zoom Connector enabled in GReminders AND you have this meeting on your Google or Microsoft Calendar, GReminders will automatically pull in all your Meeting Registrants (email, phone, etc…), and you can use GReminders native Reminder Templates to send reminders through Email or SMS, and INCLUDE THEIR SPECIFIC ZOOM JOIN URL.
In GReminders, simply use the standard SMS or Email Client Reminder Template variable like this:

And your Customer will get something like this let's say 15minutes before the meeting: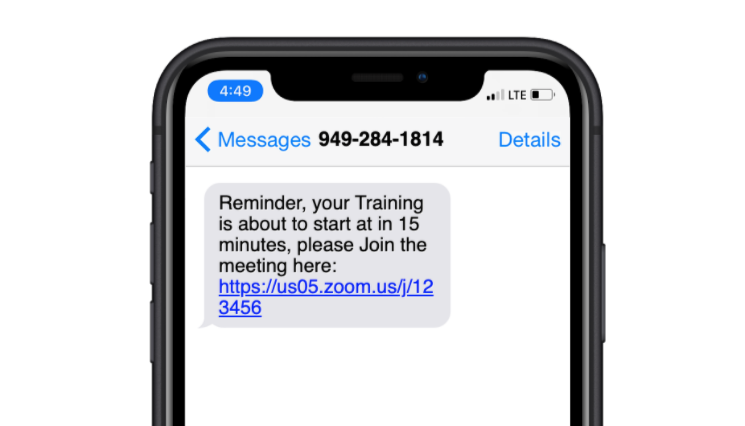 And this link is SPECIFIC to the user. They literally just need to click on the link and will automatically be taken into the Zoom Meeting or Webinar.
Anytime a Registrant is added/delete from your Zoom Meeting or Webinar, GReminders will know about it and the Registrants Database will remain fully in sync.
This should dramatically increase your attendance of Zoom Meetings and Webinars.
Note: If you have already integrated GReminders with Zoom Meetings and you add the Zoom Webinars feature, you do not have to make any additional changes in GReminders.
Any questions? Email to [email protected]
Happy Meetings.