GReminder allows users, including financial advisors and healthcare professionals, to send SMS, email, and voice reminders to their clients, reminding them about upcoming appointments. The use of reminder software can significantly reduce no-shows, saving time and money. However, if you work in an industry with strict compliance guidelines, you may be required to log all communications with the public. GReminders has tools that will help you stay compliant.
Who Needs Record Keeping
Registered Financial Advisors may be required by FINRA or their Broker-Dealer to maintain a record of SMS and emails sent to their prospects or clients. To steer clear of any potential problems, it's always best to avoid verbiage that could be considered financial advice in a reminder message.
State or federal agencies may require medical professionals, counselors, and therapists to track communications with patients. You can read more on how GReminders is HIPAA compliant with a BAA here.
Government agencies and educational institutions frequently require personnel to record communication with the public. Some agencies do not require logging reminders, but that may depend on the specific text in reminder messages. It's always best to be safe than sorry, and with GReminders, logging is automatic.
Other professionals who are not required to keep records of their communications may still wish to do so for various reasons. For example, contact history data can be helpful in market research, validation, or even due to liability concerns.
Usage Logs
For those who must keep communication records, GReminders can help make your life easier. GReminders logs every email, SMS, and voice message sent using our system. These logs are available anytime you need access to the information.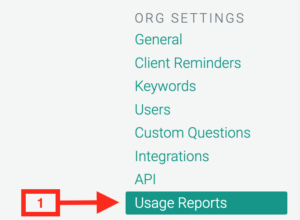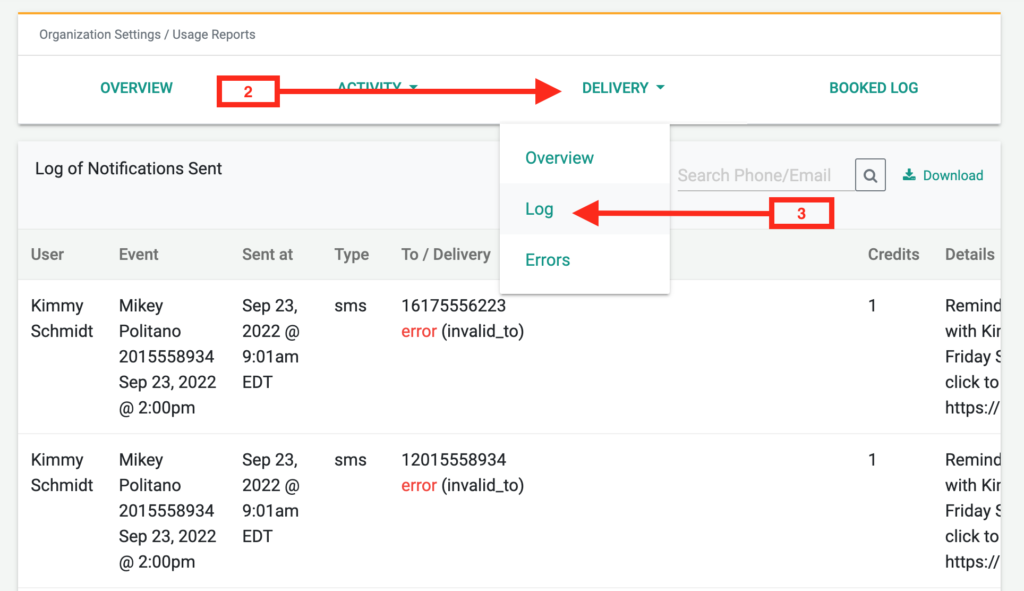 Accessing the Log File
To access the log file, choose Usage Report from the Org settings list, click on the Delivery menu, and select Log.
A list of every reminder message you attempted to send, including Email, SMS, and even a transcript of Voice reminders is now available to view.
If an error occurred and the system could not deliver a reminder, an error message will appear in red type. In addition, a checkmark will appear next to events clients have confirmed.
Search Feature
We make it easy to search for communications with a specific prospect or client. Use the search box on the top right of the log window and enter either an email or phone number.
Export Feature
To export all records to a CSV file, select the download button. Most spreadsheet applications can easily access this file.
Writeback Reminders to Your CRM
When you use one of the CRMs that GReminders integrates with, including Redtail, Wealthbox, Salesforce, HubSpot, Pipedrive, ActiveCampaign, or Salesloft, GReminders can writeback reminders sent by our system against the contact record, allowing you to search for communications by contact.
BCC Archiving
GReminders allows you to BCC all of your communications to a 3rd party for archiving and e-discovery. You can learn more about this feature here.
Conclusion
Now, financial advisors, healthcare professionals, therapists, and others who regularly send SMS or email reminders to clients can stay compliant when using GReminders. Should you have any questions concerning Usage Logs, please don't hesitate to reach out to one of our experts.