Business relies heavily on appointment setting; however, back-and-forth scheduling zaps productivity.
Online appointment scheduling software automates the process of scheduling meetings, eliminating the back and forth.
Two popular scheduling applications include GReminders and Acuity Scheduling. So how do they differ?
Acuity Scheduling Features
Acuity Scheduling is scheduling software that focuses on appointment scheduling and pre-payment of services.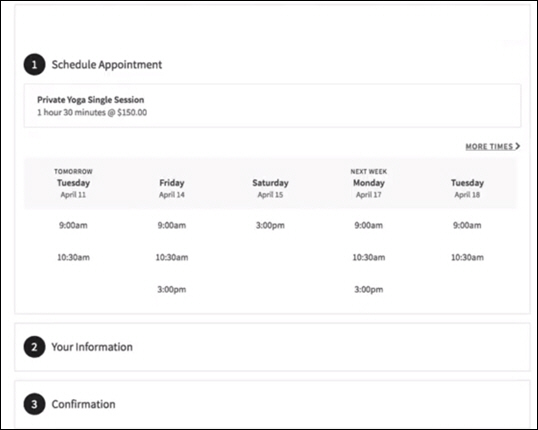 Above is a typical online calendar created using Acuity Scheduling. Clients access the calendar directly on Acuity Scheduling's site or embed it on their own website.
Reminders
Users may send up to three email reminders and one SMS reminder prior to an appointment. They may also receive a notification once appointments are booked.
Integration
Acuity Scheduling syncs with existing calendars such as – Outlook, Cloud, and Google Calendar and integrates with CRMs, video conferencing, email, analytics, accounting, and online payment software.
A separate Zapier account may be required to integrate with some applications.
GReminders Features
GReminders is easy-to-use scheduling software that delivers personalized email, SMS, and Phone reminders.
*As of 2022, GReminders also allows for pre-payment of services.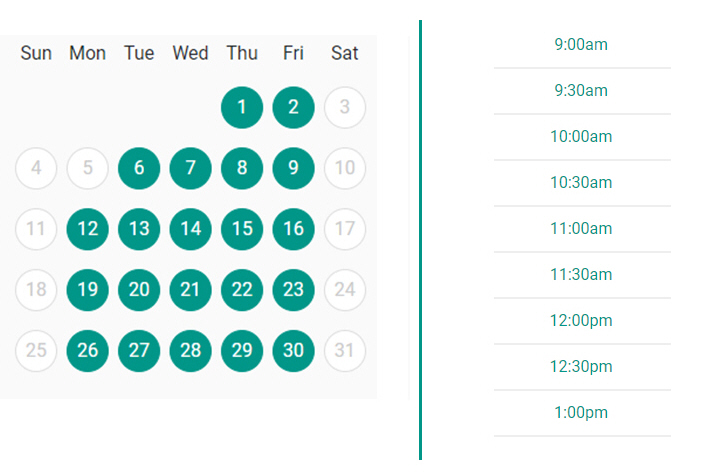 Above represents a typical calendar created using GReminders. Clients choose a date and time and the appointment appears on the user's Google or Outlook calendar.
Reminders
GReminders, as the name implies, is a robust reminder system. Not only does it allow for email and SMS text reminders, but the user can also send voice reminders as well.
Users configure the software to send as many reminders as needed, beginning with an initial appointment confirmation.
Reminder SMS messages and emails are sent anytime prior to an appointment, from a year in advance to a few seconds before the meeting is scheduled to begin.
Automated follow-up SMS text messages thanking clients, reminding them to schedule follow-up meetings or asking for reviews are also available.
Completely independent of client reminders are Personal Reminders. Users have a wide array of options to remind themselves of upcoming events.
Integrations
GReminders integrates with Google Calendar, Outlook/Outlook 365, Zoom, GoToMeeting, Google Meet, Webex, Microsoft Teams, Skype, and now Stripe.
Key differences between GReminders and Acuity Scheduling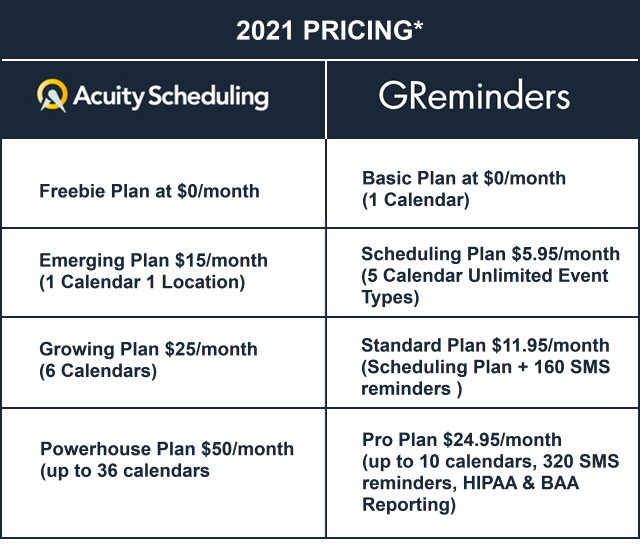 Both applications provide automated client scheduling but with a different focus. Acuity Scheduling focuses on the appointment setting process, including pre-payments while GReminders focuses on reminding clients of their appointments, with the goal of significantly reducing no-shows. *As of 2022, GReminders also allows for pre-payments.
Service is another very important difference. Acuity Scheduling provides only group training and email support while GReminders offers every user personalized, one-on-one training to successfully reduce no-shows.
Get all the benefits of automated scheduling and sending appointment reminders. Get started with GReminders today!