This article and the comparison chart below will explore how GReminders compares with Calendly, OnceHub and Acuity Scheduling with a focus on the features and capabilities that are most important to the financial services industry.
While other scheduling applications include marketing verbiage indicating their software is "For Financial Services", only GReminders was built for the financial services industry. The advantages GReminders offers financial advisors and their staff should become abundantly clear as you examine the details below: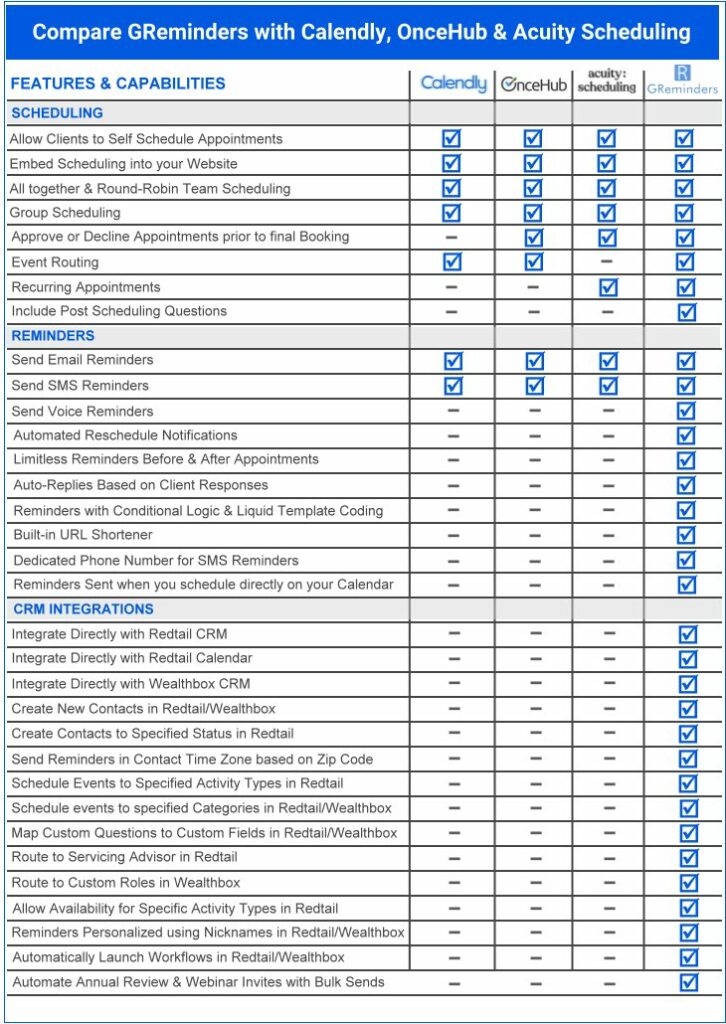 Scheduling
Calendly, OnceHub, Acuity Scheduling and GReminders scheduling are all very similar with many of the same options. Each allow you to check calendar availability, determine how many appointments you'll allow clients to schedule each day, how much buffer time you would like between appointments, etc.
In the chart above, you'll find features that GReminders offers natively that are important to financial advisors that may not be offered by other scheduling applications:
Approve or Decline Appointments prior to final Booking
Appointment approval allows advisors to control their calendars by selecting when a client can schedule an appointment. While a few advisors who use GReminders use this feature for client appointments, the majority use it for scheduling appointments with vendors. This gives the advisor the option to let a vendor know that even though there may have been time on their calendar, it really isn't a good day to meet.
Event Routing
Event Routing allows you to control with whom you would like a prospect or client to schedule. With a direct integration to your CRM (discussed below), information gathered during the routing process can be mapped to the CRM.
Recurring Appointments
Allow your clients to schedule recurring appointments with you within the parameters that you set up. Want to meet once a week for the first month, once a month, etc.? Having the ability to allow your clients to schedule recurring appointments and then reminding them of their appointments all automatically, saves your staff time and eliminates the back and forth.
Include Post Scheduling Questions
The ability to allow for questions after your client schedules is particularly effective for scheduling with initial prospects. You may wish to ask some rather personal questions and if you lead with the questions prior to scheduling, prospects may not complete scheduling their appointments. This method ensures that you have the appointment scheduled (with prospects' contact information) before personal questions are presented.
Reminders
Most scheduling apps, including the three compared in our chart, focus on scheduling and provide very few options when it comes to appointment reminders.
GReminders is quit different (Reminders is in our name, after all). We believe scheduling is just the start of the process and reducing no-shows is equally as important. Here are a few ways we differ from Calendly, OnceHub, and Acuity Scheduling:
Voice Reminders
Sure, not many folks use this option, but when working with seniors, it can be an important tool to have in your quiver.
Automated Reschedule Notifications
With other scheduling apps, you would need to open up the software and indicate you need to reschedule a meeting in order for a notification to be sent to your client. Using GReminders, simply move the appointment on your calendar and the notification process is launched.
Unlimited Reminder Options before and After an Event
You shouldn't be limited when you send reminders to clients, how many reminders you wish to send, or be limited by character length. Calendly limits characters and OnceHub and Acuity Scheduling limit how many reminders can be sent, in fact Acuity allows for only a single SMS reminder per appointment! GReminders has no such limits (our carriers permit 1000 characters and you can use them all).
Auto-Replies based on Client Responses
When your clients respond to your text or email reminders, having the ability to respond back with automated messages enhances your ability to reduce no-shows and gives you options you wouldn't otherwise have.
Reminders with Conditional Logic and Liquid Template Coding
Unlike other systems, GReminders allows users to implement conditional logic and insert Liquid Template code inside a reminder message to get extremely granular with how you remind your clients. You want your reminders to sound like you personally typed out the message? That's the type of options you have with our system.
Built-in URL Shortener
Make your links easy for your clients to click on using our automated URL shortener. Since most public shorteners are not permitted by carriers in SMS messages (and thus, not allowed to be used in our competitor's reminders), we built our own URL shortener system that the carriers have whitelisted.
Dedicated Phone Number for SMS Reminders
Choose a dedicated local phone number to use for all of your SMS reminders. Another feature not offered by Calendly, OnceHub or Acuity Scheduling.
Reminders sent on Manually Scheduled Events
This is a HUGE advantage offered by GReminders. Because we have a bi-directional sync with your calendar, our system doesn't care how an appointment is placed on your calendar, we'll send an appointment reminder if it meets the criteria you have set in place. In fact, we can send reminders on appointments scheduled by Calendly, OnceHub and Acuity Scheduling, making it simple for you to switch to us!
CRM Integrations
The two CRMs used most often by the financial services industry are Redtail and Wealthbox. GReminders is the ONLY scheduling and reminders application that has a DIRECT integration with these CRMs.
Integrate Directly with Redtail CRM, Redtail Calendar and Wealthbox CRM
A direct integration means no 3rd party apps like Zapier are needed or connecting to Redtail's Retriever Cloud. Our engineers did all the heavy lifting for you and you can integrate GReminder with Redtail or Wealthbox in seconds. Here's what this means:
Create New Contacts in Redtail & Wealthbox
When a prospective client schedules an appointment with you, GReminders will create a new contact record in Redtail or Wealthbox with the information you gathered during scheduling.
Create Contacts to a Specified Status in Redtail
You can specify the status in Redtail that you would like a new contact to inherit upon scheduling.
Send Reminders in Your Contact's Time Zone
When an existing client in Redtail or Wealthbox schedules with you, we will look up the zip code of the contact and compute which time zone the reminder should be sent in.
Schedule Events to a Specified Activity Type in Redtail
You can indicate what Redtail Activity Type you would like a specific type of meeting to be linked to in Redtail.
Schedule Event to a Specific Category in Redtail and Wealthbox
You can indicate what Category you would like a specific type of meeting to be linked to in Redtail or Wealthbox.
Map Custom Questions Asked during Scheduling to Custom Fields in Redtail and Wealthbox
You can create unlimited custom questions in GReminders to ask prospects and clients during scheduling and then map the answers to those questions to custom fields setup in Redtail or Wealthbox. You can also use the custom variables assigned to the custom questions in your reminders.
Route to Servicing Advisor in Redtail or Custom Role in Wealthbox
Using GReminders routing forms, you can route a client who is scheduling an appointment to the client's servicing advisor in Redtail or Custom Role in Wealtbox. All that is required is the client's email address, GReminders does the rest.
Allow Availability for Specific Activity Types in Redtail
Do you use Activity Types in Redtail that you would never want to block your calendar for availability or send reminders on those activities. Just deselect them in GReminders and we ignore those activity types scheduled on your calendar.
Use Nicknames in Redtail and Wealthbox in your Reminders
You call Theodore, "Ted" and Margaret, "Peggy" when you talk with them in person, but you have to include their full legal name in your CRM. However, if you include their Nicknames in Redtail or Wealthbox, we'll use their nicknames in their reminders, helping to make reminders as personal as possible.
Automatically Launch Workflows in Redtail and Wealthbox
Another HUGE advantage of using a direct integration. You can specify one or more Workflows to launch in Redtail or Wealthbox when a prospect or client schedules a meeting with you. Everyone in your office will stay on top of events and you'll be prepared.
Automate Annual Reviews & Webinar Invites with GReminders Bulk Sends
Do you schedule a group of clients who are coming up for their annual reviews manually? You don't have to any longer. Just export a list of emails from Redtail or Wealthbox of those clients due their annual review next month to GReminders and we can send all of them a single use scheduling link each can use one time to schedule this year's annual review. You can use the same feature to invite your contacts to your next seminar or webinar. This was the number 1 feature requested by users in the financial services industry.
Compliance
While compliance wasn't addressed in the chart above, it should be mentioned that GReminders, while running on FINRA approved Microsoft Azure servers, not only offers bank grade security with end to end encryption, but also provides multiple options for archival and e-discovery. GReminders regularly works with compliance department personnel to ensure advisors using our system, meet their specific requirements.
Conclusion
Calendly, OnceHub, and Acuity Scheduling are fine scheduling apps, but they are built for the masses. GReminders is the only scheduling and reminders app with a direct integration to the CRMs financial advisors use most, Redtail and Wealthbox. We work with advisors and their assistants every day, listen to their needs, and continue to make our software better for you.
Redtail User? Click Here to learn more, schedule a Demo or Start Your Free Trial
Wealthbox User? Click Here to learn more, schedule a Demo or Start Your Free Trial
Salesforce User? Click Here to learn more, schedule a Demo or Start Your Free Trial
HubSpot User? Click Here to learn more, schedule a Demo or Start Your Free Trial