To stay competitive in today's world, optimizing your time and using the best calendar app possible is essential. Time is money, so you must consider how you schedule your time one of your top priorities.
In a recent article in Inc.com, The 3 Time-Management Habits of Millionaires, How the most productive (and wealthy people) approach their to-do list, Karen Leland, President of Sterling Marketing Group, points out how important calendaring is in order to be successful. After surveying over 20,000 business owners and leaders, she found the "super successful" make a habit of using a time plan, and a calendar app is part of that plan.
Taking it to the extreme, according to Entrepreneur.com, famous Billionaire Elon Musk blocks his day in 5-minute increments. He typically works an 85-100 hour workweek that divides his time between Tesla, SpaceX, The Boring Company, and OpenAI. So if you only have one business to run, you may be able to block your day in 10-minute increments! All kidding aside, you can see how the super successful take scheduling and time-planning very seriously.
The Best Calendar Apps
When it comes to calendar apps, while there may be niche apps that work well for specific types of businesses, the two calendar apps that are on the top of most lists are Google Calendar and Microsoft Outlook Calendar. According to enlyft, Google Apps market share is currently at 46.41% just behind Microsoft Office 365, which comes in at 48.10%. Small businesses most frequently utilize Google Apps, while Microsoft Office 365 not only competes with small business usage but dominates the market when it comes to companies with annual revenues that exceed $100MM.
How Calendar Apps Work
Both Google Calendar and Outlook Calendar are part of a broader set of tools, Google Workspace (formerly G Suite), in the case of Google Calendar, and Office 365 is the suite of tools that includes Outlook Calendar. A comprehensive toolset means more opportunities to integrate between tools. For example, you can instantly add a Google Meet to your Google Calendar event or a Skype meeting to your Outlook Calendar event. Instead of acting independently, communication between individual applications in the suite of tools increases overall productivity.
Core Features of Calendar Apps
Calendar apps like Google Calendar and Outlook Calendar provide much more than simply a place to track appointments. Both Google and Outlook/Microsoft 365 are cloud-based, so you can easily access your calendar on multiple devices. Cloud-based calendars also allow users to share their calendars with others and receive updates in real-time.
Google Calendar and Outlook Calendar allow you to create multiple calendars so you can segregate your appointments by priority, location, or personal vs. business. In addition, both applications include a busy or free feature so that you can schedule events without blocking your schedule.
The user can receive personal appointment reminders but client reminders are not available. Fortunately, there is a solution we will discuss later in this article.
What are the Best Calendar Apps to Keep Yourself Organized
Keeping yourself organized begins with a to-do list that is easy to create and access. When it comes to managing to-do's, Google Calendar comes out on top. To create a task, indicate "Task" while scheduling (see below). You can create a specific color to separate tasks from events. Tasks will not block your schedule and you can move them around with ease. Once a task is completed, you can mark it completed and leave it on your calendar or delete it completely. Finally, if you have notifications set up, you can receive an alert when a scheduled task is due.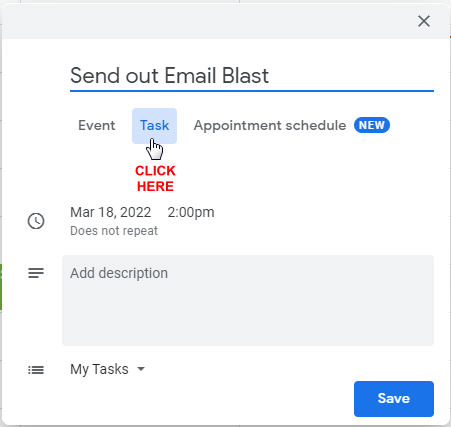 Calendar Apps to Balance Your Personal & Professional Life
Balancing your work-life is essential to reduce stress and prevent burnout. According to Alan Kohll writing for Forbes, chronic stress is one of the most common health issues in the workplace. He suggests it can lead to hypertension, digestive troubles, chronic aches and pains, and heart problems.
The best calendar apps will allow you to use a single calendar to schedule both business appointments and personal time, all while keeping them separate and allowing you to focus on each. Google Calendar and Outlook Calendar will enable you to set up multiple calendars per account. You can view each calendar simultaneously or separately. You can indicate time on your personal calendar as "Free or Busy," in essence, setting a priority and allowing business appointments to be scheduled at the same time. For example, you will probably want to set a doctor's appointment as busy and not allow any conflicts. Still, you may indicate other personal appointments (primarily those events that can be easily rescheduled) as "Free".
Text / SMS Reminders for Google or Outlook / Office 365 Calendars
This article began with the statement, "Time is Money." Having a powerful calendar app is a great start toward helping you save time, but nothing could be more of a waste of time and money than clients failing to show up for their scheduled meetings.
Implementing an automated appointment reminder system is essential for reducing no-shows. Google and Outlook calendars will remind you of appointments, but they will not remind your clients.
Is There an App That Will Text Reminders to Clients?
GReminders integrates with Google Calendar and Outlook / Office 365 Calendar to send automated SMS text appointment reminders. In fact, because GReminders uses bi-directional syncing, any changes made on your Google or Outlook calendar will instantly affect reminders you have scheduled to go out to your clients.
How do I set up SMS Text Reminders for Google Calendar
If you currently use Google Calendar, you can set up GReminders to send appointment reminders to your clients.
Begin by signing in with the Google account you would like to send reminders on. Make sure that you grant GReminders permission to access your calendar, so the program can sync with your calendar.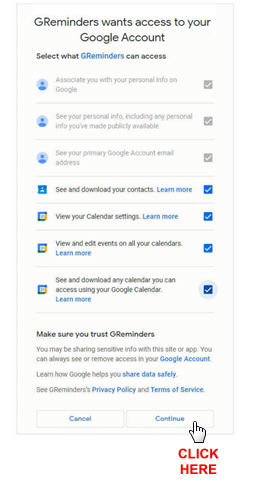 While you're signing up for the free trial, tell the system you would like to send SMS Text Appointment Reminders.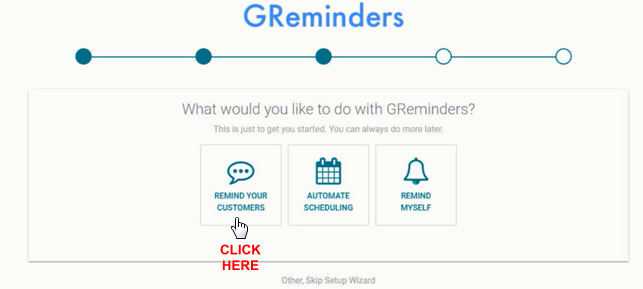 The system will create a 24-hour reminder template for you automatically.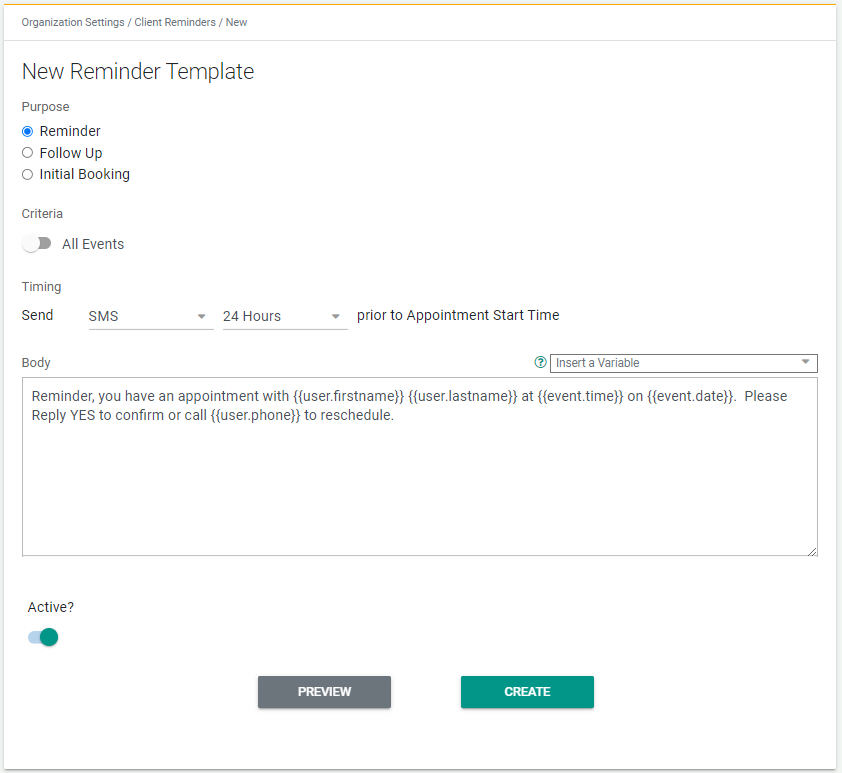 Customizing Your Reminders
You can edit the template to best match your situation. Here are some examples that you may wish to use:
Personalized Reminders
If you would like to use your client's first name in a reminder, a pre-made template is available to help you do that.
Reminders Scheduled for a Particular Time of Day
You can also send reminders out at a particular time of day. If, for example, you were sending reminders out the day before events, you could indicate that you would like all reminders to go out at 4:00 pm the evening prior to the appointment. This way, someone with an appointment at 8:00 am on Tuesday would get the reminder Monday at 4:00 pm rather than at 8:00 am Monday morning. There is a likelihood that the reminder would be more beneficial Monday evening compared to Monday morning.
You could also schedule a second reminder an hour or two before the start of the appointment. If the appointment is for an in-office appointment, send the reminder early enough to give your client travel time. You can also include a link to Google Maps that can indicate traffic delays.
Appointment Reminder Confirmation
With GReminders, your clients can confirm their appointments and you'll receive an email and/or SMS text notification of the confirmation along with a notification icon on your calendar.
Online Meetings
If a meeting is online, consider sending a reminder 10 or 15 minutes prior to the start time. You can include a link to Zoom, Webex, Google Meet, etc., in the reminder or let them know that a link was sent in an email at the same time. With GReminders, you can send an SMS text reminder and an email reminder at the same time.
Using Advance Criteria
GReminders includes an option that allows you to send reminders dependent on specific criteria, including:
How the Event was Booked – auto or manually booked
Event Status – Send reminders based on whether your client has confirmed their appointment.
Event Title – Send reminders only when an event title contains or does not contain specific words.
Calendar Name – Send reminders only to events scheduled on a specific calendar.
Event Location – Send reminders only when a specific location is in the location field of the event.
Event Description – Send reminders when specific information is found in the description.
Event Type Name – Used with automated scheduling.
Event Start Time – Send special reminders when an event takes place at a specific time.
Event End Time – Send a reminder based on the time an event ends.
How do I set up SMS Text Reminders for Outlook / Office 365 Calendar?
GReminders works the same with Outlook Calendar, the only difference is that you'll sign in using your Outlook / Office 365 account and grant permission for GReminders to access your Outlook calendar.
What is the best scheduling App for Outlook Calendar and Google Calendar?
You have a powerful tool in your Calendar App, whether you're using Google Calendar or Outlook / Office 365 Calendar. Want to make it even more powerful? Introduce automated scheduling and allow your clients to book their own appointments with you.
Booking appointments yourself or having an assistant do it can take a lot of time. Remember, "Time is Money!" Scheduling a client can include multiple calls or emails back and forth, especially if more than one individual will attend the meeting, a spouse, for instance.
Controlling Your Schedule
One of the biggest impediments to individuals choosing to implement automated scheduling is the fear of losing control over their calendar and schedule. However, you can eliminate such fears by choosing an automated scheduling system that provides nearly limitless scheduling options.
Here are just a few of the options you have when using GReminders' automated scheduling:
Control your availability down to 5-minute increments
Control how many appointments of each Event Type you wish to schedule per day
Determine how far in the future individuals can schedule a particular type of event
Create an expiration date for event types
Prevent individuals from scheduling an appointment within a set time period
Give clients the option to choose the length of meetings (within your set parameters)
Determine how much "buffer" time you need between appointments
Let the system maximize your time for you or take manual control
Simply block a time on your calendar and clients cannot schedule at that time
As you can see, allowing clients to schedule their own appointments onto your Google or Outlook calendar does not take away any control you have over your schedule. You will start saving time every day by avoiding all the back and forth. Automated scheduling will save you time, and your clients will appreciate it as well.
Use the best calendar app, Google or Outlook calendar, along with automated appointment reminders and automated scheduling from GReminders to increase your productivity and efficiency dramatically.
Sign up for a free trial of GReminders and request a one-on-one setup call with a member of our Customer Success Team. We'll show you how to get the most out of our system and how it can supercharge your calendar.
If you have any questions, please reach out to us here.