Are you looking for the best scheduling app for small business? There are many applications available to choose from, so how do you find the right scheduling app for your business?
Small Business Needs Best Scheduling App
It's important that you select the best scheduling app for your type of business. You need to determine your needs and whether the app you choose can provide the tools that will help you accomplish your goals.
What is a Scheduling App and How Does it Work
Scheduling apps were developed to allow individuals to schedule their own appointments with you using an online booking system. The online calendar app that your clients access should sync with your Google or Outlook calendar so that only times when you are available are open for scheduling.
When individuals choose a date and time to meet with you and complete the necessary registration process, you should receive notification that a client wishes to meet with you. Your calendar should also be updated automatically with the newly scheduled appointment, eliminating the possibility of double bookings.
Why do We Need a Scheduling App for Business
Companies developed scheduling apps to help keep busy executives and their administrative assistants from spending countless hours trying to schedule appointments with clients. It is not uncommon for scheduling an appointment to comprise multiple phone calls in order to finally come to a resolution on a time that works for both parties.
Offering a client the ability to self-schedule can eliminate the back and forth associated with scheduling.
Scheduling applications that can be accessed by hyperlinks on websites or even embedded on the site can help streamline scheduling with new and existing clients.
Features of an Online Scheduling App
In order to accomplish the desired goal of having your clients book appointments directly onto your Google or Outlook calendar, let's examine some important features you should consider when choosing the best scheduling app for small business:
Your app should integrate seamlessly with your Google or Outlook Calendar.
You shouldn't have to rely on another intermediate calendar for scheduling.
Your system should operate the same, whether your clients book appointments online or you book appointments manually.
There should be a way to see if your clients have confirmed their appointments on your calendar.
An online scheduling app should allow for group meetings as well as one-on-one meetings.
Online scheduling apps should allow round-robin or all-together team scheduling.
Your app should integrate with multiple online meeting applications such as Google Meet, Zoom, WebEx, Skype, GoToMeeting, etc.
If you wish to collect payments during scheduling, be sure there is a feature that allows it.
The app should allow you to schedule Events from a quarter-hour to multiple days.
A feature that allows you to control your time down to a few minutes is optimum.
You may wish to have a feature that allows your clients to determine the length of meetings within the parameters you determine.
The app should allow your clients to schedule 1-time events or multiple events on specific days and times.
You should have the option of determining when appointments can start (on the hour, half-hour, quarter-hour, etc.)
You may not wish to send calendar invites to attendees, and you should have the option to control whether to send calendar invites to attendees or not.
Your scheduling app should allow you to create as many custom questions as needed (see below).
The app should allow you to auto-invite guests to meetings, including transcription bots.
Your scheduling app should provide a default thank-you page and options to create custom URLs for thank-you pages.
You should have the ability to use variables in thank-you page URLs to pre-populate intake forms.
The best scheduling software applications will allow you to customize the look of your booking site with a custom banner, logo, favicon, and colors to maintain your company brand identity.
Finally, one of the most important features to look for in an online scheduling app for your business is the ability to have a reminder system that employs powerful features like expandable conditional logic and no limits on the number of reminders you're allowed to send per event.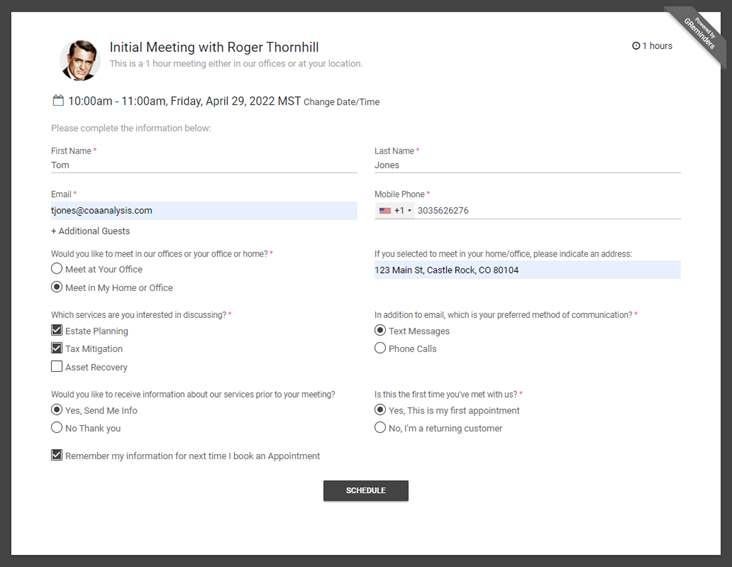 Benefits of Online Scheduling Apps
The benefits of using an online scheduling app are simple, it will save you time and money. Anytime you can automate a process that would otherwise take your valuable time AND accomplish the same goals, you are making the right decision.
Online scheduling benefits you, but it also helps your prospects and clients. They have busy lives too, and coordinating when to meet with you is unproductive for them. Your clients will appreciate you for thinking of them.
How GReminders Scheduling Software Saves You Time
GReminders has a robust scheduling system. When paired with our intelligent automated appointment reminders, scheduling, sending calendar invites, notifying you of scheduled appointments, and reminding your clients to show up for meetings is entirely automatic. In addition, with our setup and forget software, once you configure our system, you can close it and control everything from your Google or Outlook calendar. As a result, you'll save a significant amount of time using GReminders.
FAQs on Best Scheduling App
Which software is best for scheduling?
Each scheduling application in the marketplace has its strong points. Calendly and Acuity, for example, are very strong when it comes to general scheduling and pre-payment features. Unfortunately, the two scheduling apps are lacking in automated reminder features. If ensuing no-shows is a primary concern, then GReminders has robust scheduling features and is arguably, one of the best reminder systems available. GReminders will help ensure that when clients book an appointment with you, they also show up!
Is there an app for scheduling employees?
It's important to separate out apps that are primarily meant to schedule employees (see a list of 12 employee scheduling apps here) and apps that will allow you to remind employees of upcoming events. GReminders is not explicitly designed for the former (though some of our users do use our system that way) but can be effective in notifying and reminding staff of upcoming meetings or shifts.
How does this app create a schedule for small business?
GReminders does not create a schedule, it syncs with a user's Google or Outlook calendar and allows individuals to book appointments when it detects available slots.
How do I know if my business needs appointment scheduling software?
If you or your staff spend time on the phone or emailing clients to schedule meetings, you can generally save a significant amount of time by utilizing automated scheduling. It can be even more convenient to use if you frequently schedule with more than one person at a time.
How do I know when I should purchase appointment scheduling software?
Scheduling software is very affordable. It will save you money to implement automated scheduling in almost every situation.
How GReminders app is the Best Scheduling App for Small Business
GReminders is setup and forget software. Once you configure your events by using our event schedule template and set up reminders using our reminder templates, you can control everything from your Google or Outlook calendar. Even if you schedule an appointment manually, as long as you follow the rules you created in the reminder templates, our system will work just the same as if your client used automated online scheduling. Most popular systems in the marketplace will not allow this.
Conclusion
If you're looking for the best scheduling app for small business, then you should try GReminders. We offer a free trial with all the features of our Standard Plan and don't require a credit card to sign up. We also provide one-on-one onboarding assistance during your trial so you can learn if our system is right for you.
If you have any questions, please contact us.
Happy Scheduling!