Want to get your Appointment Reminder Confirmations done over an automated phone call?
Now you can allow your customers to "Press 1 to Confirm" and "Press 2 to Reschedule/Cancel" if you use Phone Reminders.
Its simple, setup a Phone Reminder Template. (Go to Admin > Templates > Create a new Template)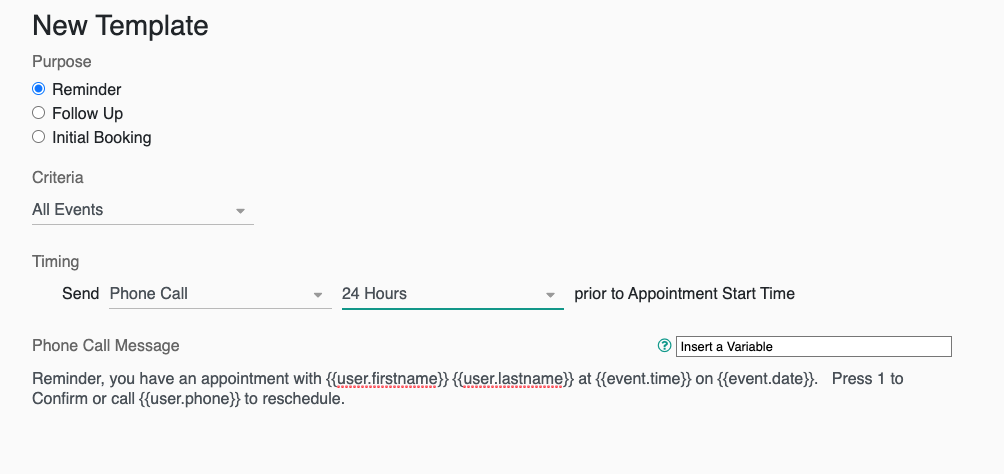 In this case the system will automatically call your client 24 hours prior to the appointment. The Female voice will automatically say:
Reminder, you have an appointment with Michael Scott at 9am on Dec 14th. Press 1 to Confirm or call 555-555-5555 to reschedule.
Of course, the "variables" will be replaced with your specific information.
If your client picks up the phone, it will recite this message. Your client can hit 1 for Confirmation. After which they will be prompted with a "Thank you for your Confirmation. "
OR if you wish you can also add "Press 2 to Reschedule/Cancel" which will acknowledge your customer cannot attend the Appointment and will need to Reschedule. For Rescheduling, we suggest you point your customers to your Booking or Rescheduling pages.
As usual, you will receive a confirmation via sms or email (Depending on your settings), or you can also have the confirmation written back to your Google or Outlook Calendar.
Voice Mail? No problem, we will simply leave the same message on their Voice Mail. While they won't be able to interact since we are leaving a message, they should still get the message (assuming they check their voice mail).
If you are using a language other than English, make sure you select the proper Language. This is important so the system knows which "language processor" to use when translating the words into a voice. GReminders currently supports the following languages for voice translation: English (US/AU/GB), Danish, German, Spanish, French, Hindi, Icelandic, Italian, Japanese, Koren, Dutch, Polish, Portuguese, Romanian, Swedish, and Turkish.
Need some inspiration. Try these Sample Reminder Templates.
Give clients a choice of how to receive reminders, read more here.
Want to use SMS Confirmations? Try this
Simple as that.
Note: Not available in all regions, US/Canada support and some other regions. Contact [email protected] if you have further questions.
Happy Scheduling.