GReminders helps you stay compliant with tools that allow you to archive all of your SMS reminders, email reminders and even voice call reminders. This article will help you understand the differences between the tools we provide and the advantages of each.
GReminders SMS Reminders vs SMS Messaging
GReminders is reminder software that sends SMS Reminders, we are NOT an SMS messaging service. SMS Reminders, using GReminders, are set up in advance using Reminder Templates. Reminders are customized using variables in the reminder templates (see below).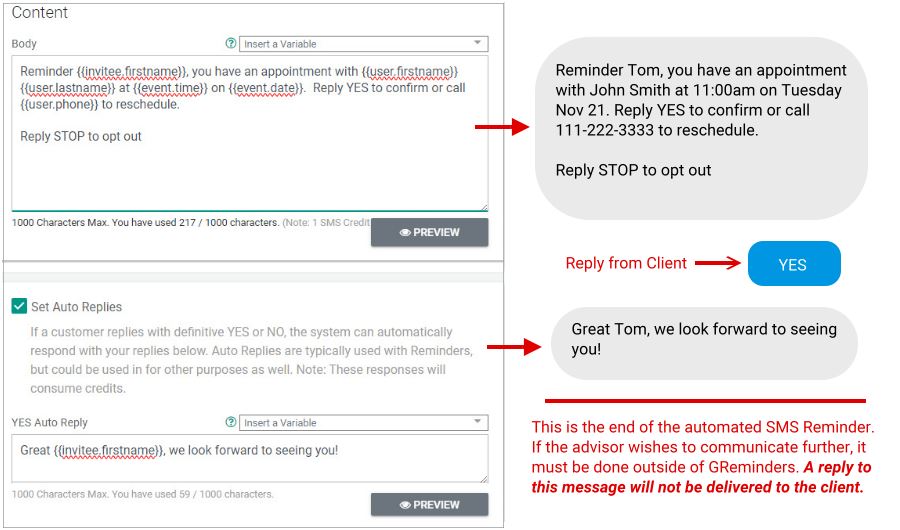 As you can see from the image above, the entire "conversation" is created in advance and automated, except the reply from the client (which is typically a single word like "Yes" or "No"). Replies sent from GReminders are automated and based on client replies.
If our system detects a positive response, the "Yes Auto Reply" is sent. If we detect a negative response, a "No Auto Reply" is sent. If we detect a reply from the client that isn't positive or negative, i.e., "Can we meet earlier", we categorize that as an "Other Reply". Advisors or their assistants receive these replies in an email notification from GReminders and must respond to the client OUTSIDE of our system (see below).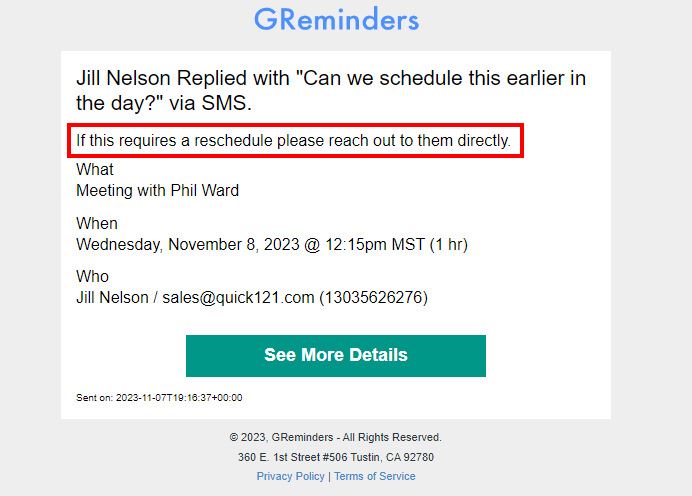 Now that we've discussed the difference between GReminders SMS reminders vs an SMS messaging service, we can look at how we can assist in archiving all reminders, including SMS reminders.
BCC Archiving
BCC Archiving is a real time archiving tool. All outbound reminders, inbound replies and outbound auto-replies are archived to your 3rd party vendor (for complete setup instructions, click here).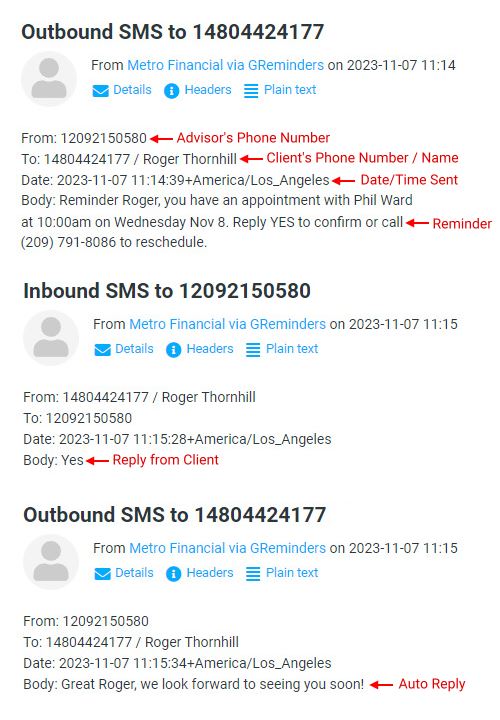 Each outbound SMS reminder, the client's SMS reply, and the auto-reply were converted to an email and sent to the archiving vendor in real time. Each email contains complete information, including sender info, recipient info, date and time the message was sent, along with the message itself.
Note: This is not simply adding a BCC to an outgoing email reminder, this feature sends email, SMS and voice reminders as emails to the 3rd party vendor.
Advantage: BCC Archiving is real time archiving.
Disadvantage: A separate account may need to be established with your 3rd party archival vendor and additional costs may be incurred.
Compliance Digest
An alternative to BCC Archiving is utilizing GReminders Compliance Digest. This feature is turned on automatically when requested by compliance or can be turned on by request. Once turned on, it cannot be turned off by the user.
The Compliance Digest is sent to each user in an organization once a week.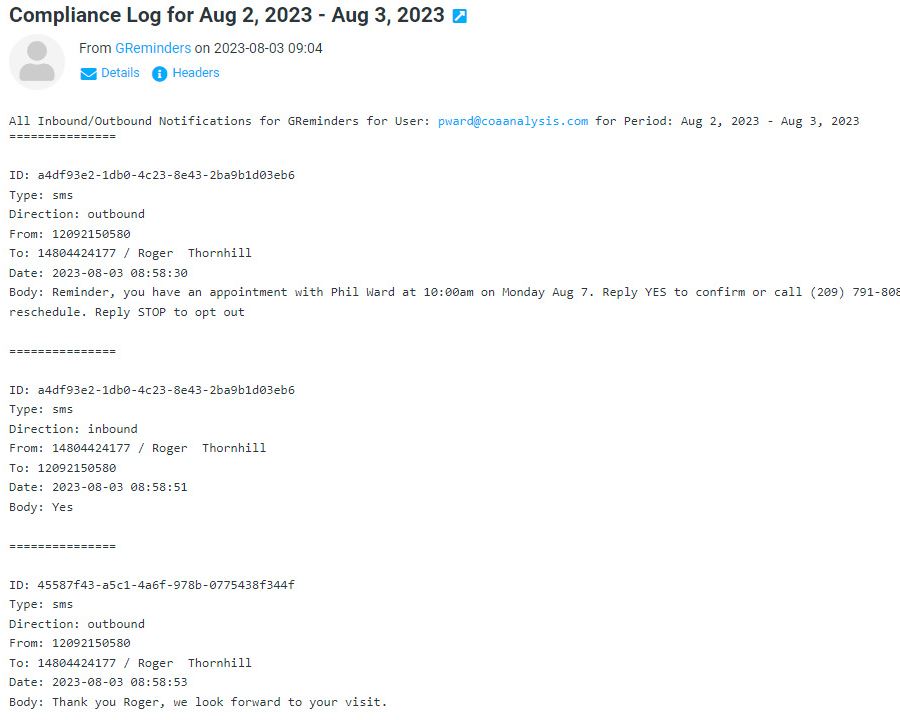 The information contained within the digest is very similar to BCC Archiving. Every outbound and inbound SMS, email or voice reminder sent during the week is included in the log.
Advantages: Since the log is sent to the email address already being scanned by a 3rd party archival vendor, there are no additional costs involved. The Compliance Digest cannot be turned off by the user.
Disadvantage: The log is sent once a week and is not delivered in real time.
Archiving Solutions Partners
GReminders works with ALL 3rd party archiving vendors and has partnered with some of the largest, including Smarsh, Global Relay and Veritas. Whichever vendor you or your Broker-Dealer chooses, you can be confident that GReminders will work with them to satisfy compliance requirements.
Conclusion
GReminders meets the archival requirements of countless RIAs and Broker-Dealers across the United States. If you, your firm or your Broker-Dealer's compliance team would like to learn more, please reach out to us here.