Activity Templates in Redtail and Their Limitations
In the realm of Customer Relationship Management (CRM) systems, efficiency and automation play pivotal roles in streamlining workflows. However, users of the Redtail CRM have often grappled with a notable limitation— the inability to trigger Activity Templates automatically.
This void in functionality has been a notable pain point for those seeking a seamless and time-saving solution. Enter GReminders, an integration that transforms the landscape for Redtail CRM users. With the introduction of GReminders, individuals can now bridge the gap, effortlessly automating the triggering of Activity Templates in the CRM precisely when meetings are scheduled.
This integration not only addresses a longstanding user concern but also opens new avenues for enhanced productivity and a more synchronized CRM experience. In this article, we delve into the intricacies of this integration, exploring how it empowers Redtail CRM users to unlock a new level of automation and efficiency.
How GReminders Interacts with Activity Templates
Similarly to the Workflow Template launching in GReminders for Wealthbox and Redtail, the user can select on the Event Type buildout which Activity Template they'd like to launch. Pre-built Activity Templates will map to GReminders for a seamless drop-down. See below how this works.
Triggering Activity Templates in GReminders

In the Workflow section of the Event Type select "add another workflow"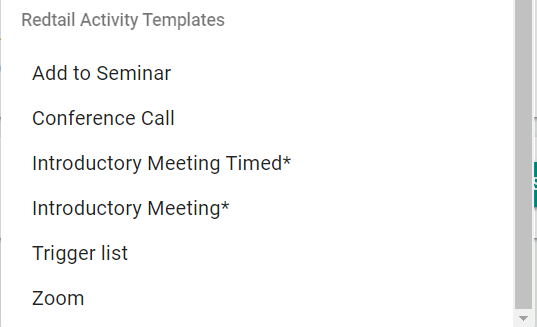 The drop-down will populate a list of existing workflow templates as well as activity templates in your Redtail CRM. From here you can select 1 or more activity templates and workflow templates combined.

Once selected you'll see all workflows and activity templates set to trigger when this specific event type is scheduled through GReminders.
It's important to note: the best practice for Activity Template Setup is to select "all day" as the timing on the template in Redtail. This will ensure the Activity Template lands in the "all day" section of the calendar. Activity Templates triggered through meetings in GReminders will be set with the due date of the meeting creation. This means when someone schedules an event, the activity template will trigger the same day the meeting was created NOT the day of the meeting.
The integration of GReminders with Redtail CRM not only addresses the longstanding limitation of automated Activity Templates but also opens up new possibilities for users seeking a more synchronized and efficient CRM experience. By seamlessly triggering Activity Templates precisely when meetings are scheduled, GReminders empowers users to navigate the realm of Customer Relationship Management with unparalleled ease. Say goodbye to manual interventions and hello to a new era of productivity.
Embrace the power of automation and elevate your workflow in Redtail CRM with GReminders.