Google Analytics (GA) is a free web analytics service provided by Google that allows website owners to track and analyze their website traffic. Google Analytics provides detailed information about visitors to a website, including their demographics, interests, behavior, and sources of traffic to the site. By integrating UTM codes with Google Analytics, website owners can better understand which marketing campaigns and channels are driving traffic to their site, and can use this information to optimize their marketing efforts.
UTM (Urchin Tracking Module – Google acquired Urchin many years ago, thus the "code name") is a system used to track the source of traffic to a website. UTM codes are tags that can be added to the end of a URL to track how visitors arrived at a particular website. UTM codes contain information such as the source, medium, campaign, term, and content of a link, and allow website owners to see which marketing campaigns and channels are driving traffic to their site.
Note, Google Analytics 4 (GA4) is now the "Primary Google Analytics" System. The old "GA" is being phased out.
GA Setup within GReminders
To implement UTMs with GReminders do the following:
First Go to Org Settings > Integrations > Google Analytics and enter your Google Measurement ID. (This used to be TrackingID for the "old GA")
You get this "Measurement ID" from your Google Analytics (GA4), go to Admin > Data Streams > click on the Data Stream and get your Measurement ID. If you want you can even setup a separate GA Property to track GReminders public booking events, this is up to you.

Enter this ID into the Integration Google Analytics setup section: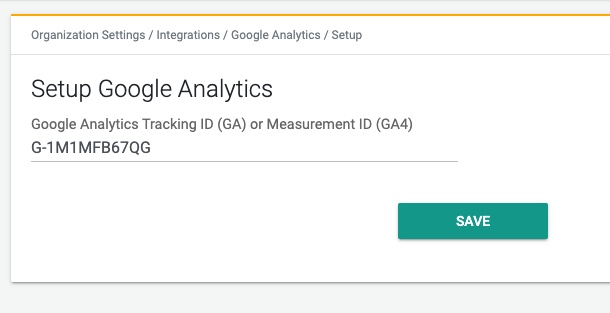 All of your public scheduling/booking pages will now contain Google Analytics tracking. GA will start recording the pages and links being clicked on from your clients/customers.
In Google Analytics Page Views will be described as: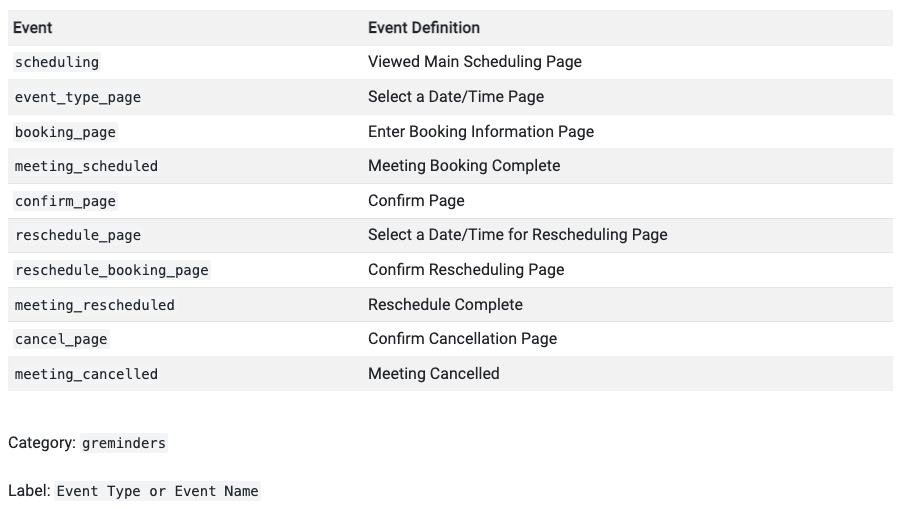 Note, it isnt required to setup GA integration to work with UTMs, but your tracking will improve quite a bit.
UTMs
So let's say you want to create a button on your Facebook campaign for someone to schedule a meeting or appointment with you, and you want to track how often this button is clicked and the "conversion" rate from the button to an actual appointment being booked. This is what UTM tracker codes are designed for. Lets set that up:
Your booking link looks something like https://app.greminders.com/c/myshortname.
GReminders supports all the UTM codes: (This blog post describes UTMs fairly well)
utm_source
utm_medium
utm_campaign
utm_content
utm_term
You can simply pass in these UTM parameters into your booking form like this:
https://app.greminders.com/c/myshortname?utm_source=facebook&utm_medium=social_media&utm_campaign=spring
etc…. You can include them all or just one of them. This is up to you.
IF you are doing an external redirect AFTER your Event Type / Booking is complete, these parameters will be passed through as well.
You can also pass UTMs via Embedded Booking Pages OR through the Advanced Javascript Widget. Learn more about Embedding here.
CRM Field Mapping
If you are connected to a CRM via GReminders, such as Salesforce, Hubspot, Pipedrive, Active Campaign, etc… you can automatically proxy the UTM codes through to your desired location.
For example, if you have Salesforce Integration enabled, under the Salesforce Integration screen within GReminders you can map UTM fields to your desired Salesforce Object and Field like so: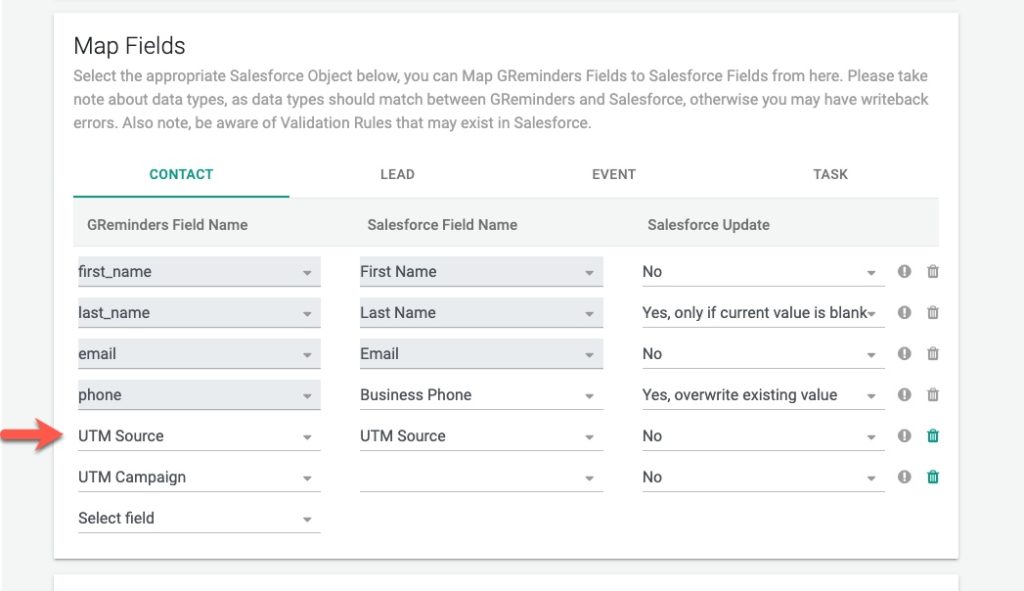 Google Analytics and UTM codes are powerful ways to track Marketing and Campaign Performance and better understanding where your quality Traffic is coming from and Marketing Attribution.
Need Support or have questions? Reach out to [email protected]
Happy Scheduling.