Tips on setting up GReminders when integrated with Hubspot and using Hubspot Scheduling
GReminders now integrates with Hubspot to send reminders to your clients as well as log the messages you send via GReminders back to Hubspot. Depending on your scheduling preferences, you can use GReminders' booking links feature, or you can use Hubspot's booking links. If you decide to use Hubspot for scheduling, there are some things you should know.
What Scheduling with HubSpot looks like in GReminders
To utilize Hubspot scheduling with GReminders, you must first sync your Hubspot with a Google or Microsoft Outlook calendar. Learn how to do this here.
Once you've set this up, when your client books an appointment with you via a Hubspot booking link the appointment populates onto your Google or Outlook calendar, which then syncs with GReminders: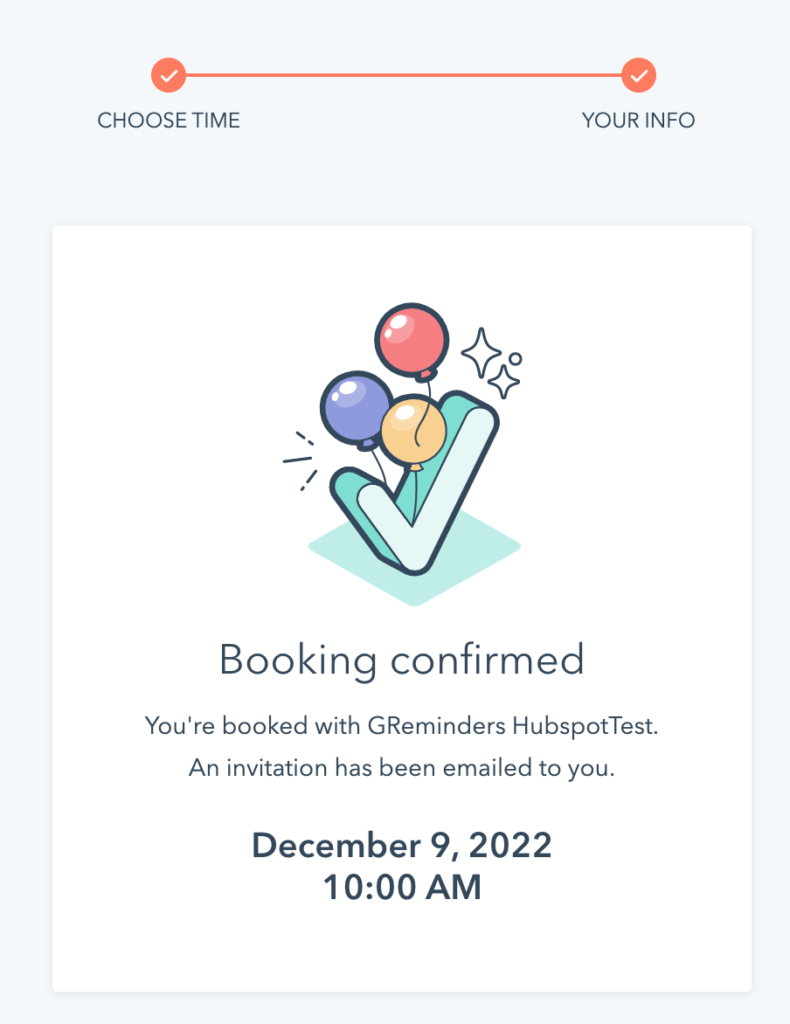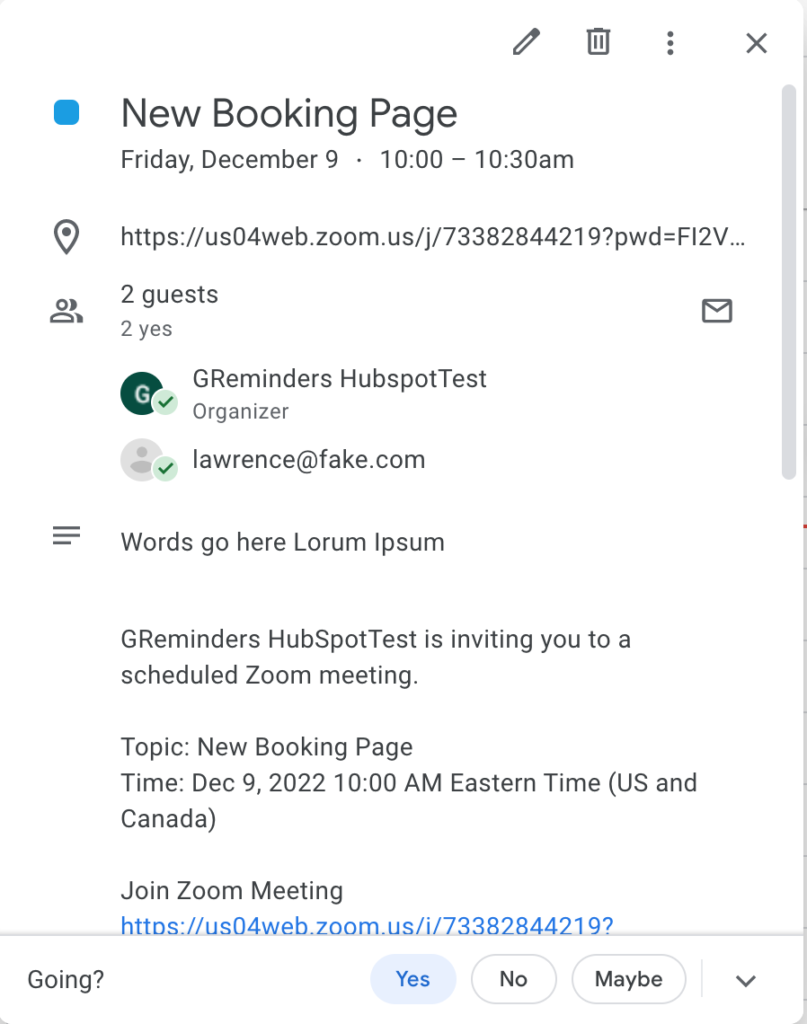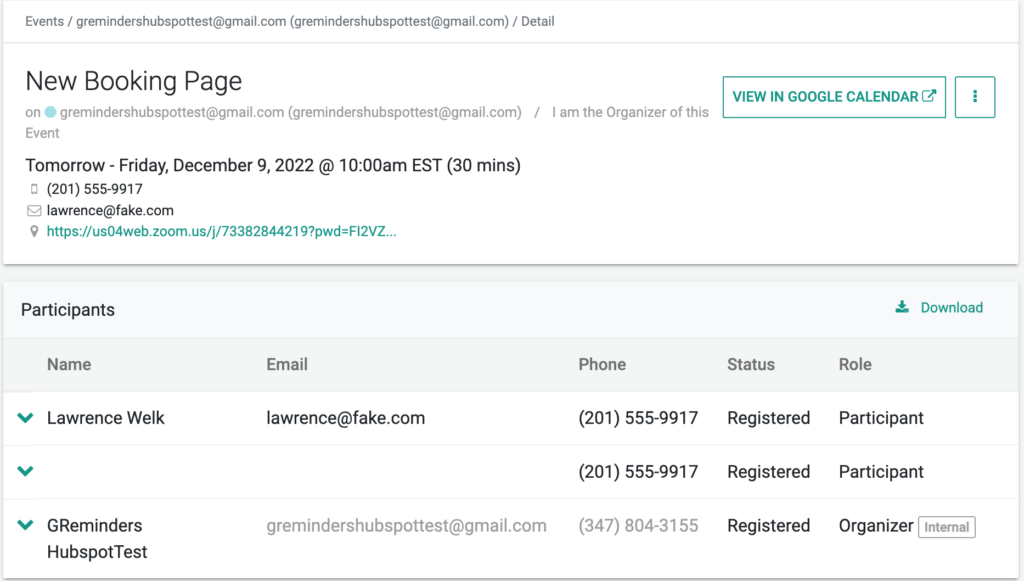 As you can see, GReminders pulled in the participant's contact information via the HubSpot booking link to trigger reminder templates you have set up in GReminders. Once you've got SMS reminder templates set up, the system will run in the background to send messages to your participants automatically.
Hubspot Cancel and Reschedule Feature
When using Hubspot's Cancel and Reschedule Features here are some things to note: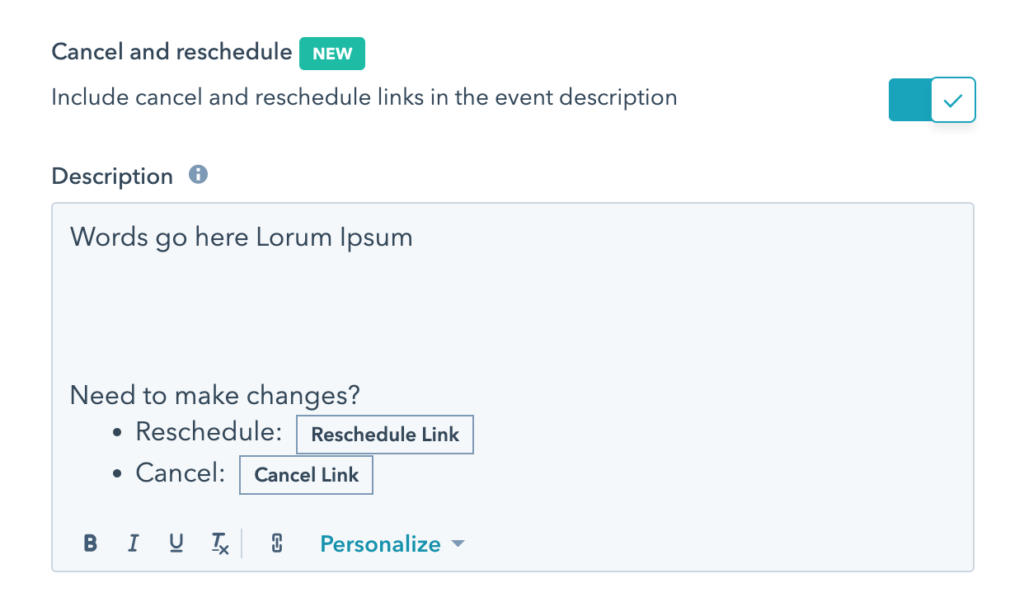 When enabling this option, Hubspot places a reschedule and cancellation link into the description field of the event when booked via Hubspot's booking link. This gives your client the ability to change or cancel the date and time of the appointment.
If a client uses Hubspot's cancellation link, Hubspot does not remove the appointment from your calendar. Rather, they decline all the participants and they prepend the word "Canceled" to the title, like so: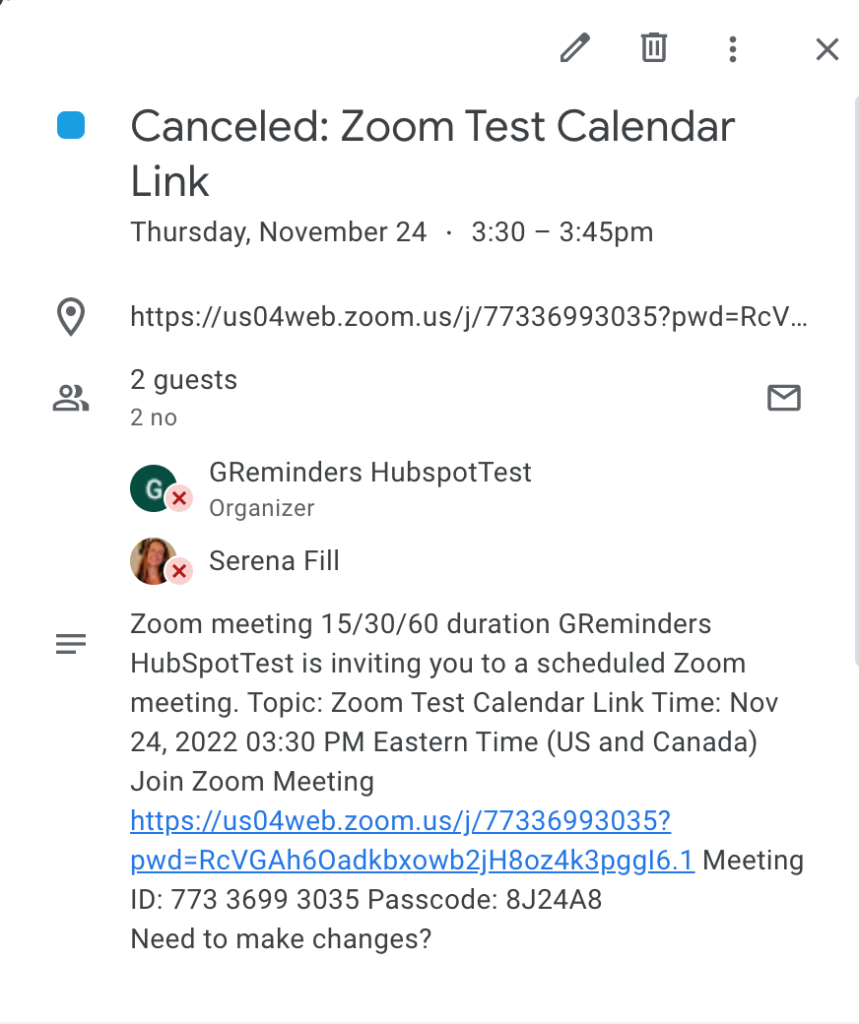 Because of the way Hubspot manages cancellations, you will want to configure GReminders to handle Hubspot's cancellations appropriately. The way to do that is as follows:
Under Org Settings, select Opt Out, then scroll to the Keyword Blacklist field:

Enter the word "Canceled" and save this change. This will prevent the system from sending future reminders for this type of canceled appointment.
Because GReminders only recognizes appointments as "canceled" if they're either deleted from your calendar, or canceled via GReminders cancellation link, you will not be able to send a GReminders cancellation notice to appointments canceled via Hubspot's cancellation link. Therefore, you may wish to opt out of Hubspot's reschedule and cancellation link option and instead use GReminders confirmation links for that purpose.
You can learn more about using GReminders confirmation links here.
That's It
If you haven't already, please refer to this article about how to set up Hubspot with GReminders for a more thorough overview.
Still have questions? Please reach out to [email protected]
Happy Scheduling!