Custom Fields in Wealthbox
Custom fields in Wealthbox are indispensable tools for financial advisors, serving as a critical component in their quest to provide tailored and highly personalized services to clients. These fields offer advisors the capacity to organize, categorize, and segment client data in a way that aligns precisely with their unique business needs. They allow for the creation of bespoke categories and labels that can be used to capture vital client information, preferences, and nuances. Whether it's tracking specific financial goals, noting personal milestones, or recording intricate investment preferences, custom fields enable advisors to have a comprehensive, at-a-glance view of each client's financial landscape. This level of customization not only enhances client relationships but also helps advisors make informed, data-driven decisions, ensuring that they are well-equipped to meet their clients' evolving financial objectives.
GReminders and Custom Fields
The integration of GReminders with Wealthbox is taking scheduling and client information management to a new level. With this innovative development, GReminders now seamlessly maps the data collected on scheduling forms to Wealthbox Custom Fields, ensuring that critical client information is readily accessible and integrated into your financial practice. This revolutionary advancement not only simplifies your workflow but also empowers financial professionals with a comprehensive toolset for providing tailored, client-focused services.
For financial advisors using both Wealthbox and GReminders, the integration of custom fields is a game-changer. It enables advisors to meticulously organize client data in Wealthbox and seamlessly connect this wealth of information with GReminders' appointment management. The result is a powerhouse of efficiency and personalization, where advisors can effortlessly access and act on client-specific details during interactions. This integration not only streamlines operations but also strengthens client relationships by demonstrating a profound understanding of their financial goals and preferences. It's the key to success in a competitive industry where data-driven, personalized financial guidance sets advisors apart.
Setting up Mapping to Custom Fields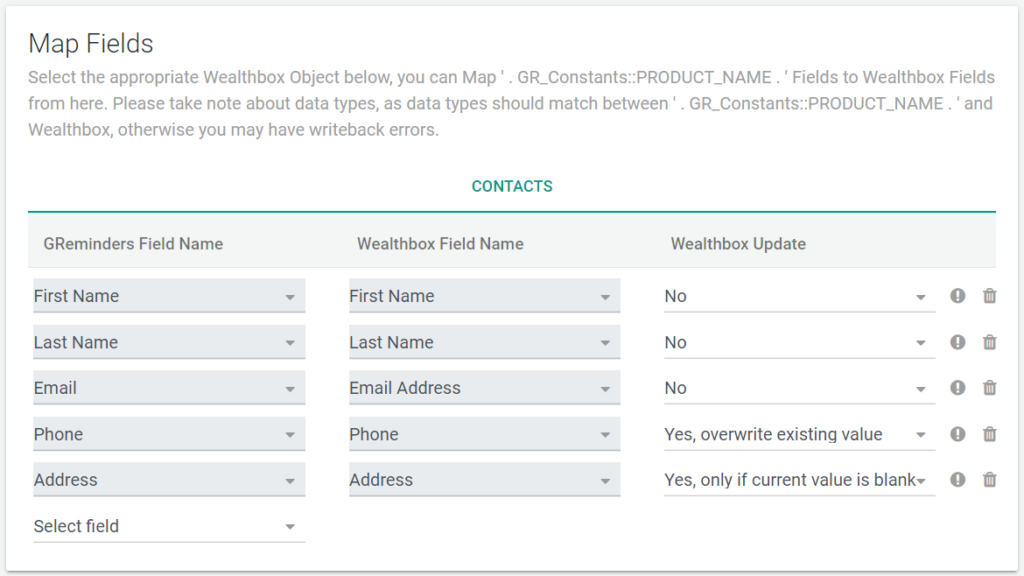 In the Integrations section of your "Org Settings", you'll find Wealthbox – Here you can change what talks to Wealthbox from your GReminders Platform. At the bottom of the interface, you'll find the "Map Fields" option. If you've configured Custom Fields in Wealthbox, they will be visible in the dropdown menu below. Additionally, GReminders extends the functionality by enabling automatic updates to the information collected. For example, if a client submits a new address or phone number, you can choose to have this information automatically updated in your CRM based on the criteria input by the client or prospect. These settings can be adjusted under "Wealthbox Update" in the dropdown menu where you can select from a few different options: "Yes, only if the current value is blank", "Yes, overwrite existing value" or leave as "No".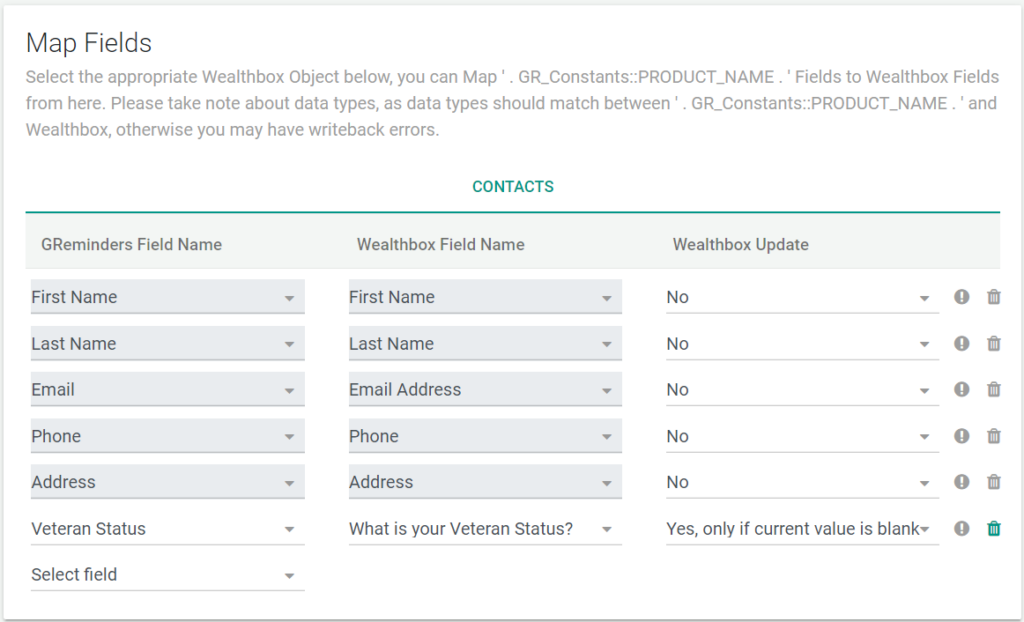 A breakdown of this looks like: In Wealthbox, you have the Custom Field "Veteran Status", in GReminders, you'll set up a Custom Question similar to your Custom Field in Wealthbox. Pictured below, "What is your Veterans Status?" is used. This maps to the Veteran Status Custom Field by setting up the fields in the integration settings on GReminders.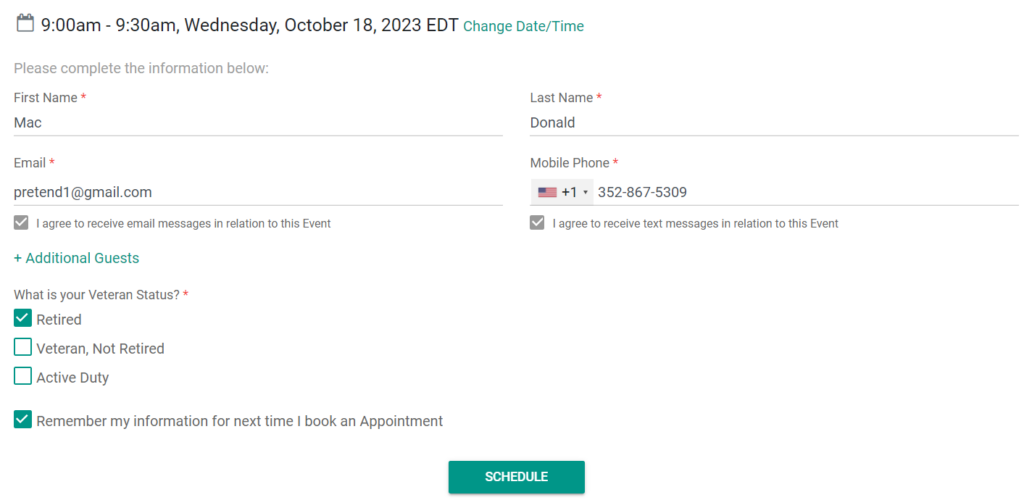 When a client or propsect schedules, the option for Veteran Status is selected and will write back to the contact under the Custom Fields section of the contact card, pictured below.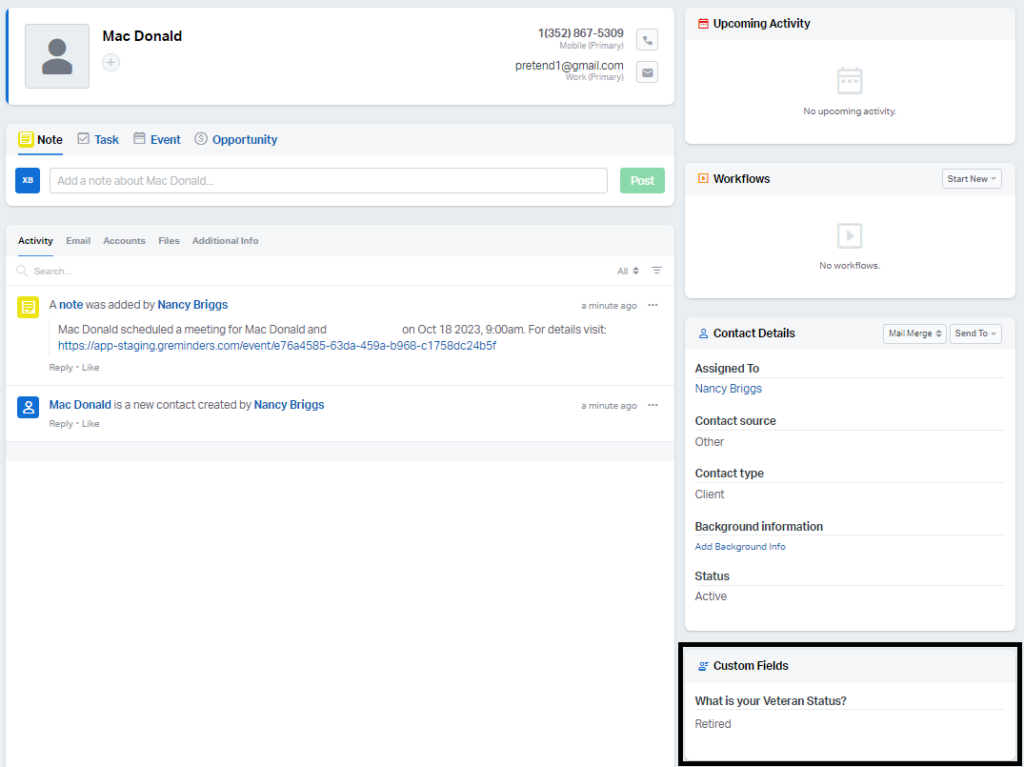 Financial Advisor Use-Case Scenario
As a financial advisor, your success hinges on providing impeccable client service and staying organized in a highly regulated and data-sensitive industry. You've been using Wealthbox as your client management system, leveraging its robust custom fields to capture and categorize essential client information. Additionally, GReminders has been your go-to scheduling tool for managing client appointments efficiently. The recent integration that allows GReminders to map scheduling form questions to Wealthbox custom fields offers a unique opportunity to enhance your practice.
Scenario:
You have a diverse clientele with varying financial needs and preferences. Your ability to offer personalized services is your competitive edge. Here's how the integration benefits you:
Client Onboarding: When a new client expresses interest in your services, they fill out a scheduling form to request an initial consultation. With GReminders, these forms can now be designed to include specific questions related to financial goals, investment preferences, or other critical data. With the integration, the answers to these questions are automatically mapped to the corresponding custom fields in Wealthbox, ensuring that your client profiles are updated with relevant information before the first meeting even takes place.
Data-Driven Decision-Making: During client interactions, having access to well-organized, real-time information is invaluable. With Wealthbox custom fields seamlessly updated via GReminders, you can tailor your advice and recommendations based on the client's unique circumstances. Whether it's noting a recent life event or a change in risk tolerance, you can provide more meaningful guidance.
Efficient Follow-Ups: After appointments, GReminders ensure that follow-up meetings are scheduled promptly. The integrated system lets you revisit client responses and compare them with previous data. This consistency allows you to address changes or updates swiftly, reinforcing the client's sense of being heard and valued.
Compliance: In a highly regulated industry, accurate and up-to-date records are crucial. With the integration, you can ensure that all client interactions and the data collected during appointments are accurately logged in compliance with industry standards.
Enhanced Client Engagement: Your clients appreciate your commitment to their financial well-being. The personalized experience you offer, thanks to the integration, fosters stronger client-advisor relationships, potentially leading to increased referrals and long-term loyalty.
By effectively utilizing the GReminders-Wealthbox integration, you can efficiently manage your appointments, harness client data, and provide exceptional, personalized financial advisory services. This integration optimizes the way you interact with your clients and, in turn, helps you stand out in a competitive industry while adhering to regulatory requirements.

In the fast-paced and data-driven world of financial advisory services, the GReminders-Wealthbox integration, with its remarkable ability to map scheduling form questions to Wealthbox custom fields, is a game-changer. It's not just about managing appointments or maintaining client records; it's a transformative tool for advisors who understand the true value of personalization and efficiency. By seamlessly connecting these two platforms, you're not only streamlining your operations but also elevating your client engagement to unprecedented levels. In doing so, you're not just providing financial advice; you're building lasting, trust-based relationships that can set you apart in the industry. With the GReminders-Wealthbox integration, your financial advisory practice has the technological edge it needs to thrive and succeed in the dynamic world of financial services.
For more information or help setting this up, contact [email protected]