There are times when you may wish to automatically add colleagues to Zoom, GoToMeeting, WebEx, or other online meeting invites. This is common during job training, job interviews, or recruiting. This way, your colleagues have the ability to join instantly, without you going through the invitation process while you're in the middle of a meeting. Or they can just jump into the meeting if they are available and wish to attend.
Automatic Invites for Transcription Apps
Perhaps you use a transcription service such as Fireflies.ai, Gong, Chorus.ai, Otter.ai or similar. Including an invite to one of these services allows the entire audio of your meeting to be transcribed and sent to you following the meeting. This can be useful in training, sales, engineering, or anytime you wish to have complete and accurate notes of a meeting.
Whatever your reason for including additional attendees, it can be set up and automated in GReminders by following these steps:
Set up an online appointment calendar under the Event Type menu.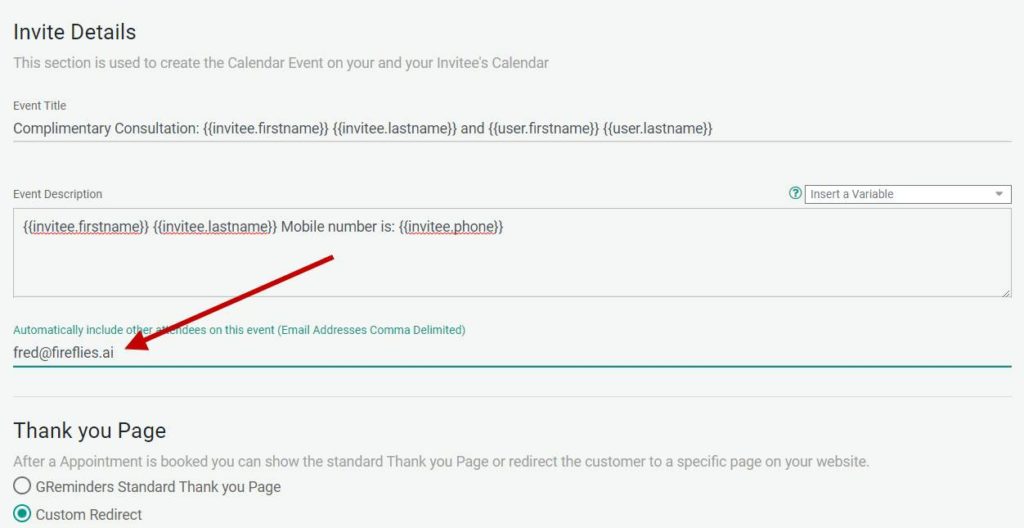 Under Invite Details, include the email addresses of additional attendees you would like to automatically invite each time an event is scheduled. If you include multiple email addresses, make sure to separate them with a comma.
Then save your changes and the individuals (or bots if you're using this for transcription) will receive the invite along with you and your guest. Registrees for this event will not see the additional attendees on their invitation.
Now co-workers, managers, and even bots can join meetings with automatic attendee invites.
Any questions? Email to [email protected]