Do you have clients you meet with on a quarterly, bi-annual, or annual basis? Use automated text appointment reminders to remind your clients when to schedule their next meeting. Since many clients may be scheduling appointments with you at the same time of year, expedite the process by utilizing automated online scheduling from GReminders.
In this article, we'll assume the client meets with you twice a year.

In the title of events, indicate if this is a quarterly, bi-annual, or annual meeting. Set up your client reminders as you normally would, (e.g., 2 days and 2 hours before the appointment), then set up a follow-up reminder: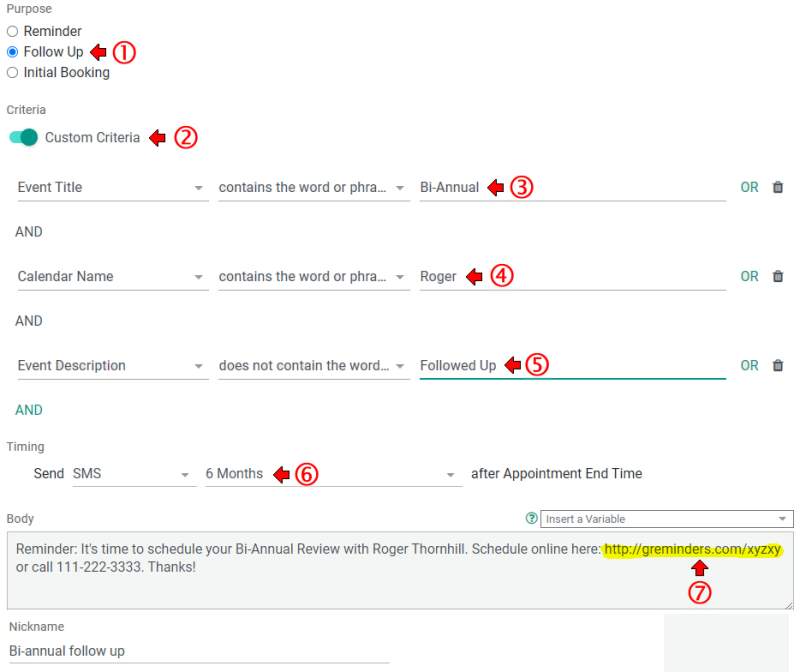 Indicate Follow Up as the purpose
Select Custom Criteria
Indicate Event Title contains the word or phrase Bi-Annual
If you have several accountants in the office, you can include the name of the accountant the client is meeting with inside the message by separating your reminders by calendar name.
You can add code words like "Followed Up" in the event description to indicate that a client has already scheduled another meeting. If it is added to the event before the 6 month trigger date, the follow-up reminder will not be sent.
Indicate the follow-up time, 6 months for Bi-Annual Meetings
Include a link to the accountant's Bi-Annual Review online scheduling calendar (instructions below).
You can also create a similar personal reminder to remind you or your staff to check and see if this client has scheduled a follow-up appointment.
If you would like your reminders to be more personal by including the client's name, you can read here how to use variables to accomplish that HERE.
Setting up Your Event Type
Make sure you also set up calendar events that allow your clients to book themselves. You can find Event Types by clicking on your avatar in the upper right-hand corner of the screen.

When setting up the event, make sure you create it on the correct calendar (Roger in this example).

Include the phrase, "Bi-Annual Review…" in the title to trigger reminders associated with this particular type of event (as shown in the reminder template above). If the client calls into your office to schedule directly with you, place the appointment directly on your Google or Outlook calendar, making sure to indicate the same phrase in the event title, so your reminders will be triggered.

After creating the event, click on the copy button next to the event type. This is the link you'll include in your reminder message (GReminders will automatically shorten the link to reduce the size of your text message).

There are few individuals who are as busy as accountants and CPAs during tax season. Don't waste your valuable time scheduling, reminding, and following up with clients when you can use automated text appointment reminders and online scheduling from GReminders to take care of all of that for you.
If you have any questions, just contact us at [email protected]. If you haven't tried GReminders yet, just click on the button below to begin your free trial. Make sure to sign up for a complimentary meeting with one of our customer success representatives. We'll help you get started with your trial so you can start enjoying the benefits of our system right away.
Happy Scheduling!