Today, GReminders has launched a new Major Release. It contains three major enhancements.
New Look / New Interface
Teams
Client Reminders at the User Level (optional)
Let's walk through the enhancements.
New Look
We have added tons of features over the last 2 years. As with all things, when you keep adding stuff, rearrangement and consolidation become necessary. This was a good time to group like with like and try to make the functionality more discoverable and friendly. So, this is what you will see when you login: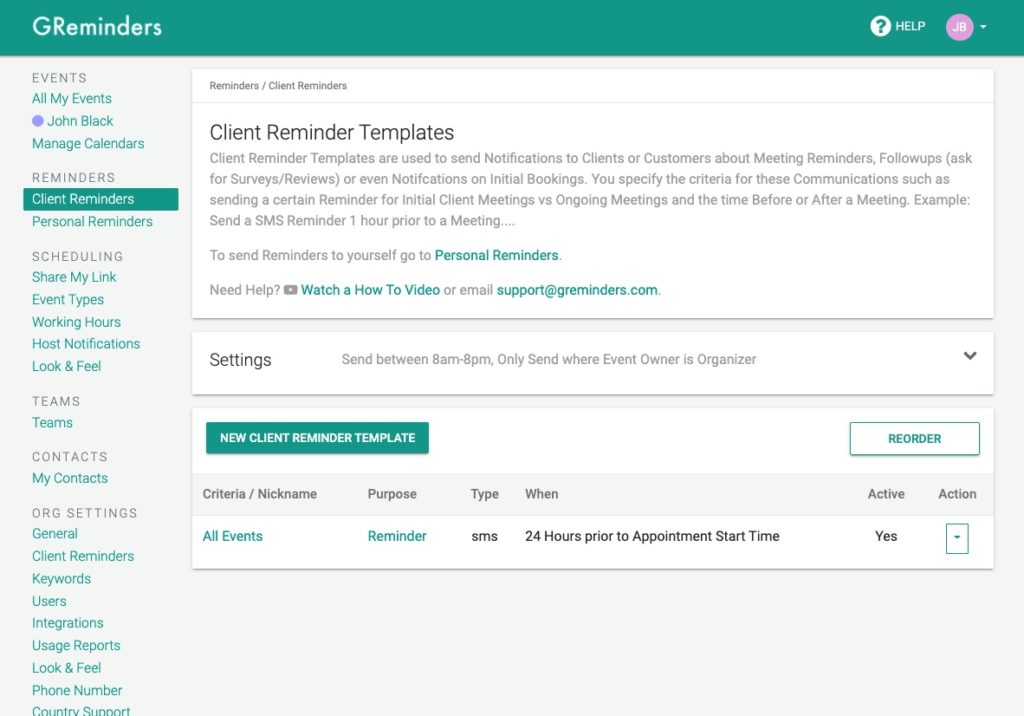 Virtually ALL your navigation and menu items are on the left hand side, and persist there as you navigate around. The mobile version is mostly unchanged.
Help/Support is clearly displayed and your image on the top right takes you to your Profile.
What we previously called Admin or Setup is now "Organizational Settings", which represent "Administrator" functions. You must have Administrator Permissions to access these areas.
While we recognize new interfaces can always take a bit of time to get used to we believe this is an improvement and a better direction for new users.
Teams
Now this is a big deal. For companies and organizations that have more than 1 user on the platform, you can now create "Teams" of users for Automated Scheduling. This is best explained via an example:
Let's say you have a sales team, and you want to allow your customers to book Demos with you. Currently, each rep may have their own booking or scheduling page, but ideally, you want to "pool" your Sales reps availability and let your customers or prospects book with anyone on your Team, maximizing the possible availability. This is now possible
Furthermore if you want to prioritize SOME Sales reps over others you can do this via Allocation Priority.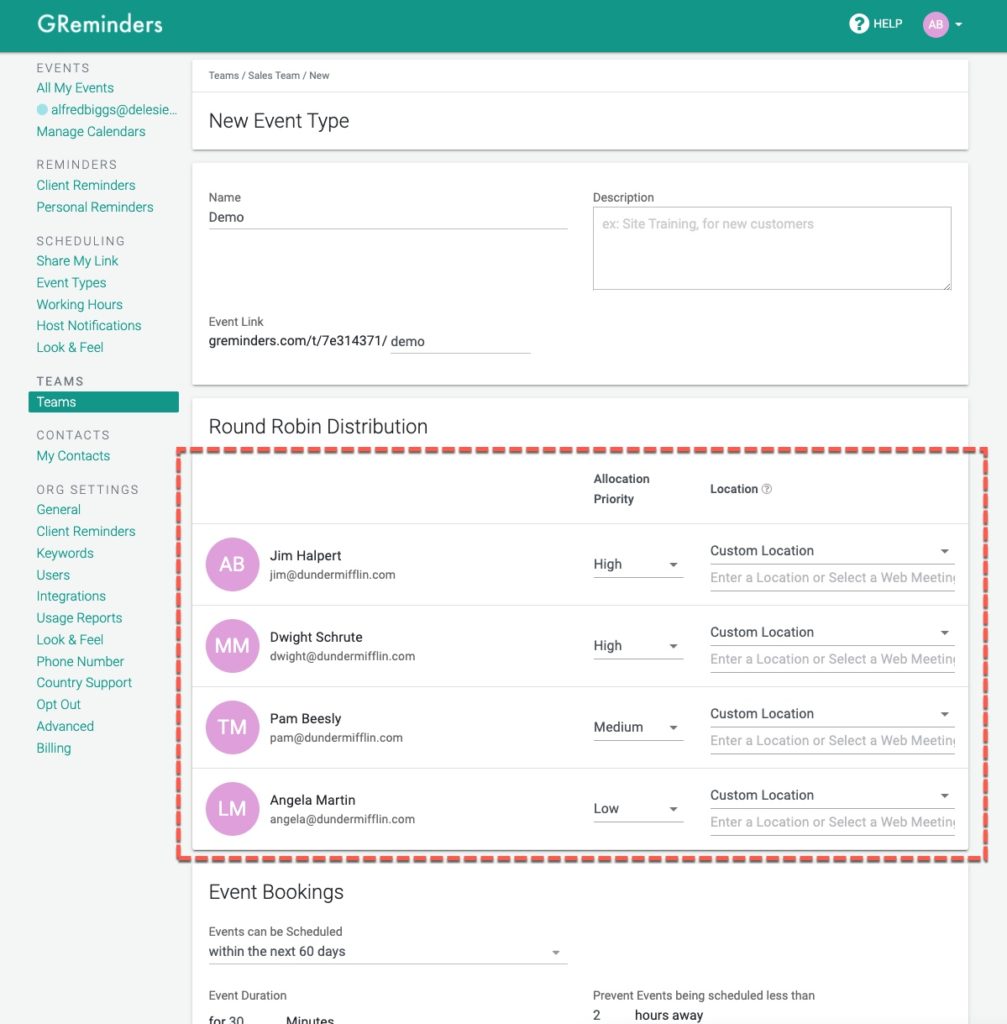 Here you can see above, we will prefer sending scheduling appointments to Jim and Dwight, if they are not available we will go to Pam and then Angela. The Priority here defines how we allocate the new appointment or meeting. This type of Event is called "Round Robin". To the end user we will show ALL possible available times for the team, maximizing the possibility someone on your team is available for your client or prospect.
We also have another type which is "All Together" which will allow you, your customers or clients to book with ALL members of the team in one meeting, ensuring that ONLY times where ALL members are available are bookable.
You can access this Teams functionality directly on the left navigation. Click on Teams and you can create a Team and Event Type from there.
Note: The Teams feature is available for Trial users and available to any users of Paid Plans. Only Administrators can Create NEW Teams, but you can specify which Team Members can Manage the Teams so they can manage Event Types and/or Membership.
Client Reminders at the User Level (optional)
Note: This section only applies to Companies that have more than 1 user.
Previously Reminder Templates, the thing that allows you to send Notifications to your Customers via SMS, Email or Phone, is/was managed at the "Company" or "Organization" Level. This means that ALL users under that Company inherited these Reminders.
Now, you can give the power back to your users (if you want) to manage their own Reminder Templates.
Don't Worry, you can still override this setting and manage Reminder Templates like you did before via the Company/Organizational Level. In fact, any existing users of GReminders have "Company Level Override" set so that we do not disturb your existing settings.
However, if you wish to give the power back to your users you can do that here: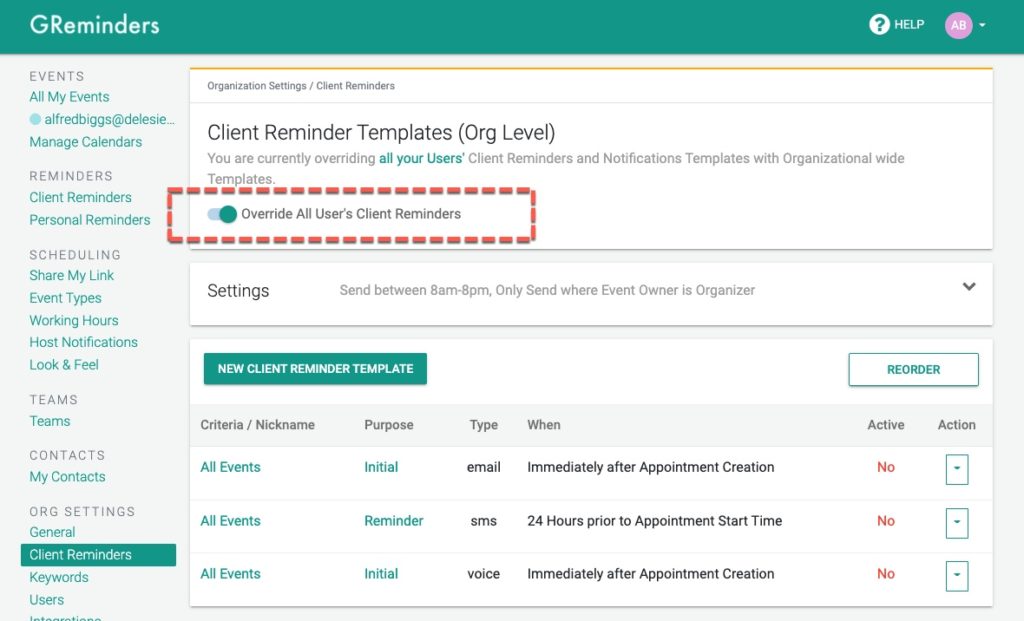 We will be writing about these new features in more detail soon along with some helpful Videos.
We hope you like the new enhancements. We have a lot more in store for you in 2022. This is just the beginning.
We look forward to your feedback. Please email to [email protected] or if you need help please contact [email protected].
Happy Scheduling!