Do you use SalesLoft to manage your contacts? If so, GReminders has made it simple to send SMS reminders from SalesLoft and import new contacts into SalesLoft from GReminders online scheduling. Now, you can be sure your prospects and clients will show up for their appointments!
GReminders integrates directly with SalesLoft (we don't use a third-party system to connect). With our integration, you can now perform the following:
Send SMS Reminders, Email Reminders or Voice Reminders when meetings are scheduled with SalesLoft contacts
Create notes in SalesLoft when a reminder is sent to a contact in SalesLoft
Create a contact in SalesLoft when a new prospect schedules a meeting using GReminders' online scheduling
Set up everything in Seconds

If you haven't started your free trial of GReminders, click on Try it Free Today on this page and sign in with your Google or Microsoft account.
In GReminders, select Integrations from the main menu on the left-hand side of your GReminders app window (above).
Scroll down to SalesLoft and select Setup.
Authorize GReminders and SalesLoft to communicate together and share information (below).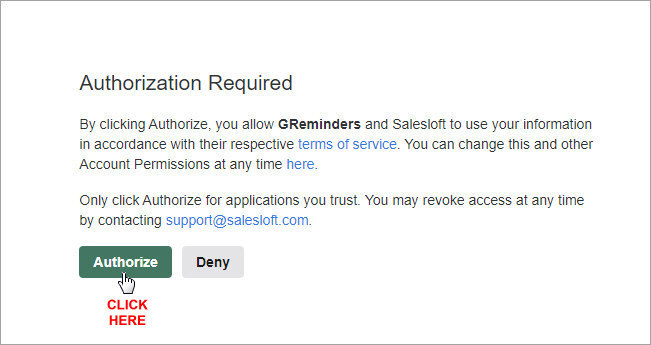 Choosing SalesLoft Integration Options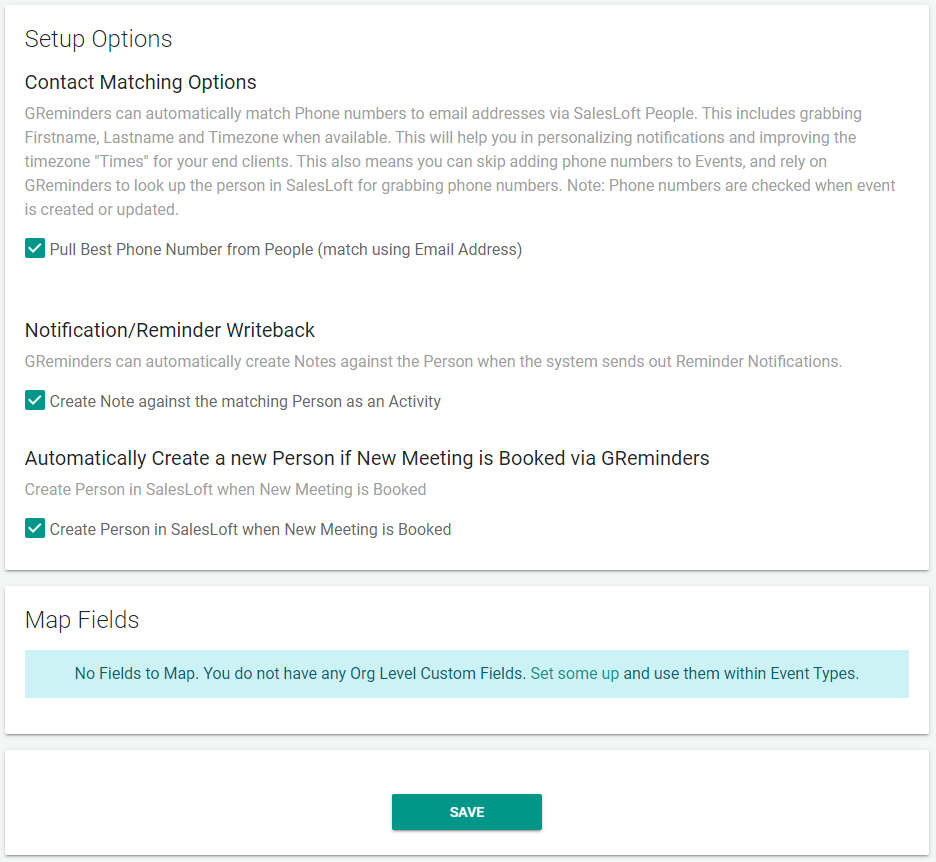 You have multiple options on the ways GReminders and SalesLoft can share information with each other.
Pull Best Phone Number from People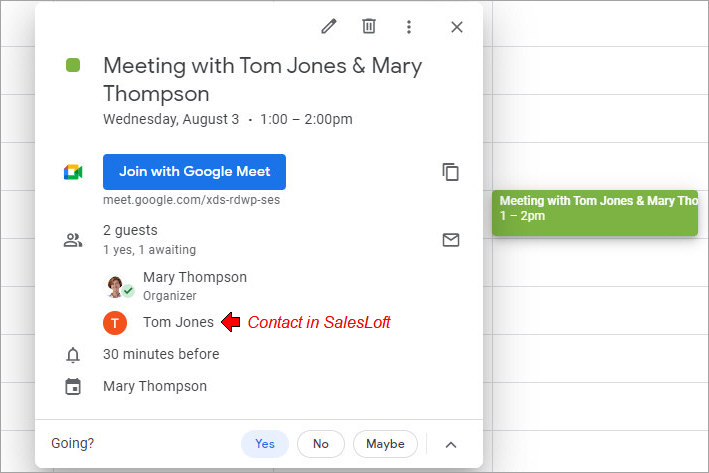 When you manually create an event on your Google or Outlook calendar, and include a contact from SalesLoft as a guest, the contact's phone number will be imported into GReminders automatically if you've selected to Pull Best Phone Number. This way, SMS reminders will automatically be sent on this event.
You must also select this option if you create an event in SalesLoft using the internal calendar that is connected to your Google or Outlook Calendar – and you wish to send reminders on those events.
In GReminders, click on the event title to see details of the event. You'll see the contact information that has been imported from SalesLoft (below).

Create Note against the matching Person as an Activity
When you select this option, an Activity will be created in SalesLoft that includes details of the reminders sent to a particular contact.

Create a Person in SalesLoft when New Meeting is Booked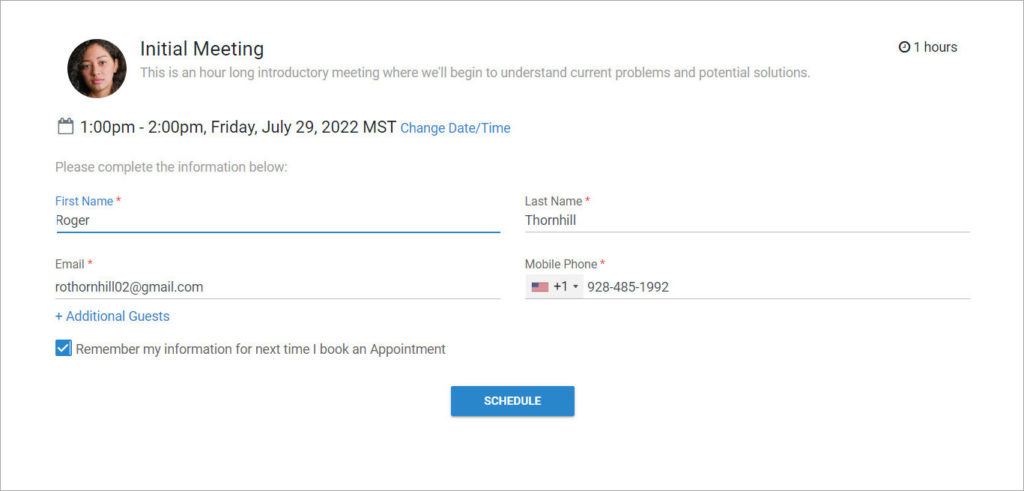 If you allow individuals to schedule onto your calendar using GReminders automated online scheduling, select Create a Person in SalesLoft when New Meeting is Booked to import new contact info into SalesLoft during scheduling.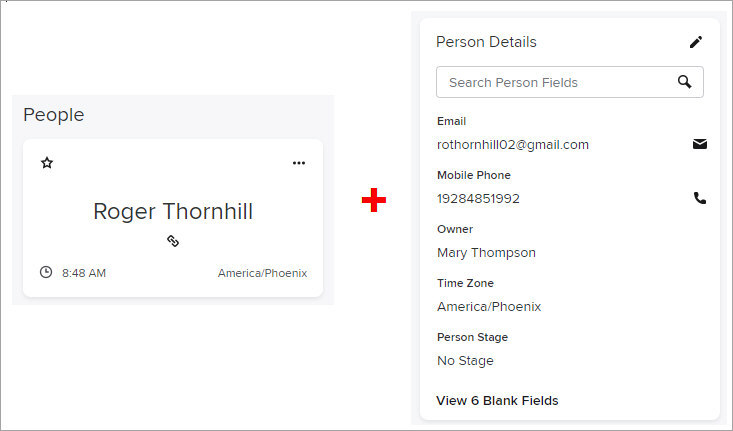 Note: The event itself will not be imported into SalesLoft, but if you have selected the Create Note option, you will see reminders sent out on the event.
Map Fields
When utilizing automated online scheduling, you can create custom questions for clients to answer during scheduling and then and map the answers to specific fields in your Salesloft person. There is a complete article on how to setup and map custom questions, here.
Using Data from SalesLoft to Personalize Your Reminders
When you integrate with SalesLoft, in addition to phone numbers, your contacts' first and last name will be imported into GReminders. You can then use this data to personalize your reminders.

In your Client Reminder Templates, place your cursor where you would like to insert your contact's first and/or last name. Click on the Insert a Variable dropdown menu and select the corresponding variable. This will place names into reminders that are sent when you schedule meetings with people in your SalesLoft database.
Timezones Associated with SalesLoft Contacts
If you have indicated a time zone for Persons in SalesLoft, GReminders will automatically send reminders adjusted for the correct time.
GReminders allows you to send SMS Reminders from SalesLoft with a simple integration that only takes seconds to set up. Sending reminders ensures your prospects and clients will show up for their meetings, saving you time and money.
If you have any questions, you can reach out to us here.
Start your free trial of GReminders by clicking on the Try it Free Today button below. Make sure you schedule a complimentary one-on-one system setup call with a customer success representative during your trial. You'll quickly learn how our system can help you increase your productivity.
Happy Scheduling!