Using GRreminders' Advanced Custom Criteria feature, appointment reminder software becomes a powerful tool that you can use to Pre-Sell new clients prior to their initial meeting with you.
Imagine new clients sitting down to meet with you for the first time who are already "sold" on your company's products and services. Providing detailed information prior to their appointments goes a long way in accomplishing this goal while, at the same time, reminding them of their appointments. GReminders' advanced criteria with conditional logic can automate the entire process for you.
About Appointment Reminder Software
Appointment reminder software like GReminders was developed to automate the process of reminding clients of their appointments. Reminders can be sent by SMS text, email or even voice.
How Appointment Reminder Software Works
In order to send automated appointment reminders, the software needs to access event information contained on the user's calendar. GReminders integrates directly with Google Calendar or Microsoft Outlook / Office 365 Calendar. Once the information is on the calendar, initial booking reminders, standard reminders, and follow-up reminders can be scheduled.
Scheduling Appointments onto Your Calendar
To schedule an appointment on your calendar, you can manually choose a date and time and enter information directly on your calendar. Although you can schedule manually, in this article we will use automated online scheduling to achieve the desired results.
Setting up the Event Type
In the GReminders app, click on event type under Scheduling on the main menu on the left-side panel. Include general information such as the name of the appointment, description, duration, and your availability.
You will come to a section that allows you to create custom questions during online scheduling (below):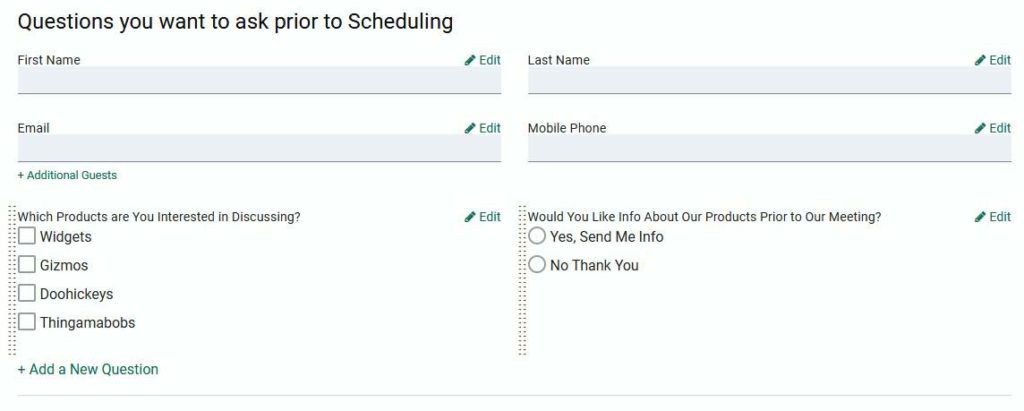 In order to send information that can help you Pre-sell your company, products, and services add two custom questions:
A question about the reasons for their visit with checkboxes
An inquiry seeking permission to send information
Next, you will need to set up reminder templates that will accomplish everything automatically.
Setting up Reminder Templates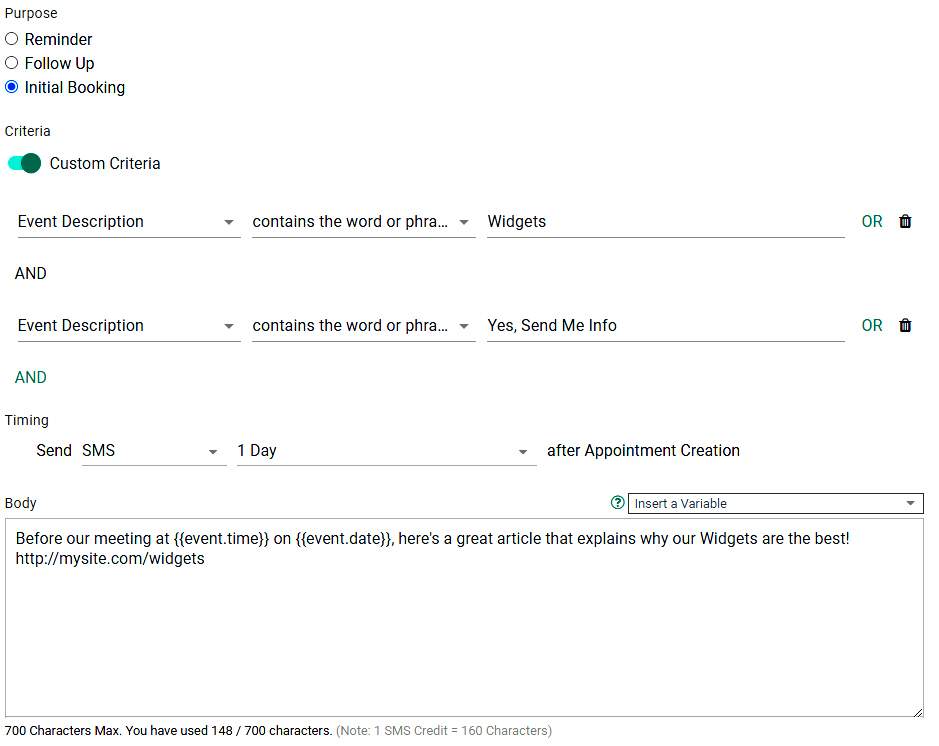 Use at least two Custom Criteria per reminder template, one that indicates which product or service was selected and another that includes the permission to send info. You may also include a Custom Criteria that includes "Event Title contains the words or phrase…" if you have multiple event types.
The number of reminders created depends on how many possible "Discussion" choices your new client can choose. The initial reminder illustrated above will be sent a day after the appointment is scheduled.
In addition to the information link, remember to include the time and day of the appointment as well.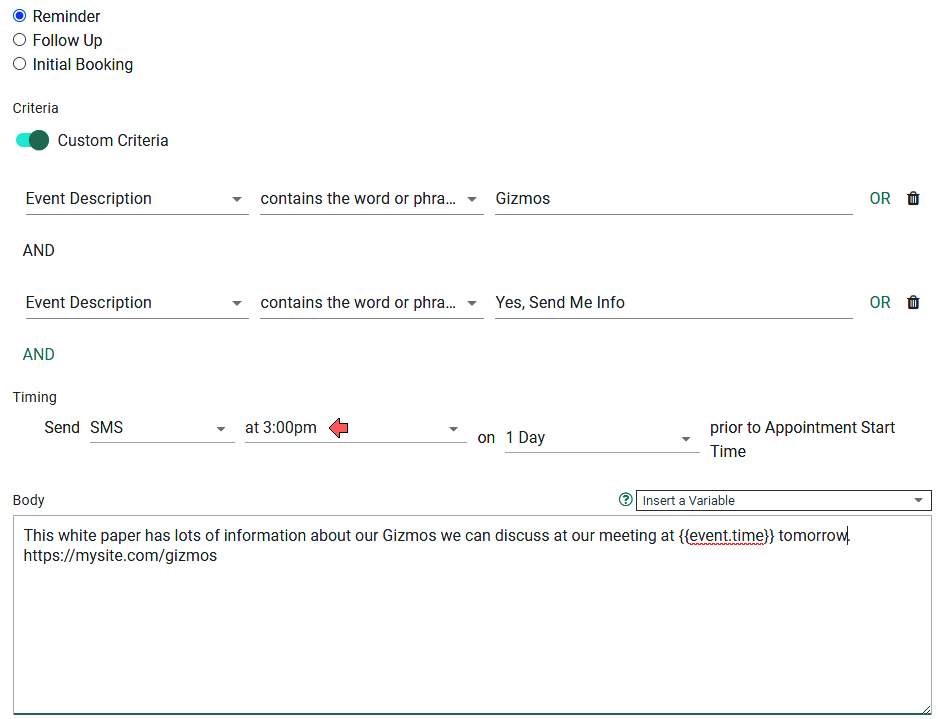 Additional reminders can be scheduled prior to the upcoming appointment.
Since our system was designed not to send multiple reminders simultaneously, use an exact time to stagger reminders.
Online Scheduling Calendar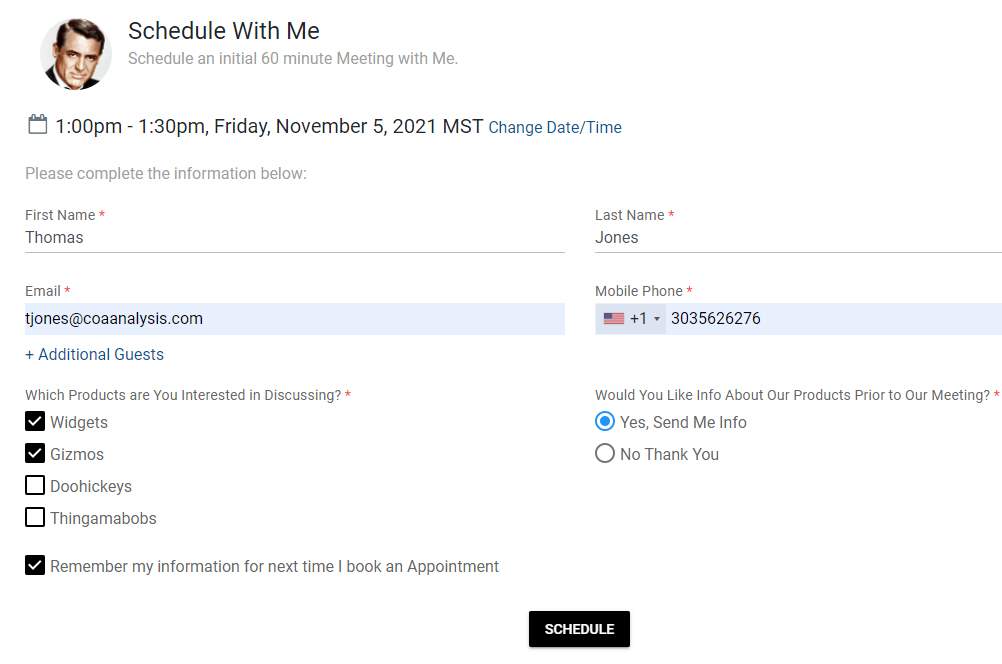 When your new clients schedule their appointments and select what they wish to discuss along with permission to send info, your appointment reminder software now becomes a powerful pre-sales tool.
If you have any questions, please don't hesitate to reach out to us at [email protected].
If you are not currently using GReminders, click on the link below to try it for free. Then sign up for a one-on-one call with a customer success representative to help you get the most out of your trial.
Happy scheduling!
Keywords: custom questions, custom criteria, custom answers, variables, questions