When you send text reminders or email reminders to clients for upcoming appointments, you may wish to include detailed information to ensure the nature of the appointment is understood, who the meeting is with, and even where the appointment is scheduled to take place.
GReminders' new advanced criteria feature offers you greater options and flexibility when creating client and personal reminders.
—— Video Contents ———-
00:00 Intro
01:21 Event Booked Criteria
03:01 Event Status Criteria
04:00 Event Title Criteria
04:44 Calendar Name Criteria
05:24 Expandable Criteria
05:57 Organizing Templates
07:00 Event Location Criteria
08:08 Event Description Criteria
09:11 Event Type Name Criteria
09:31 Event Start & End Time Criteria
10:05 Event Category Criteria
10:50 Liquid Template Rendering
11:59 Personal Reminders
Setup Instructions: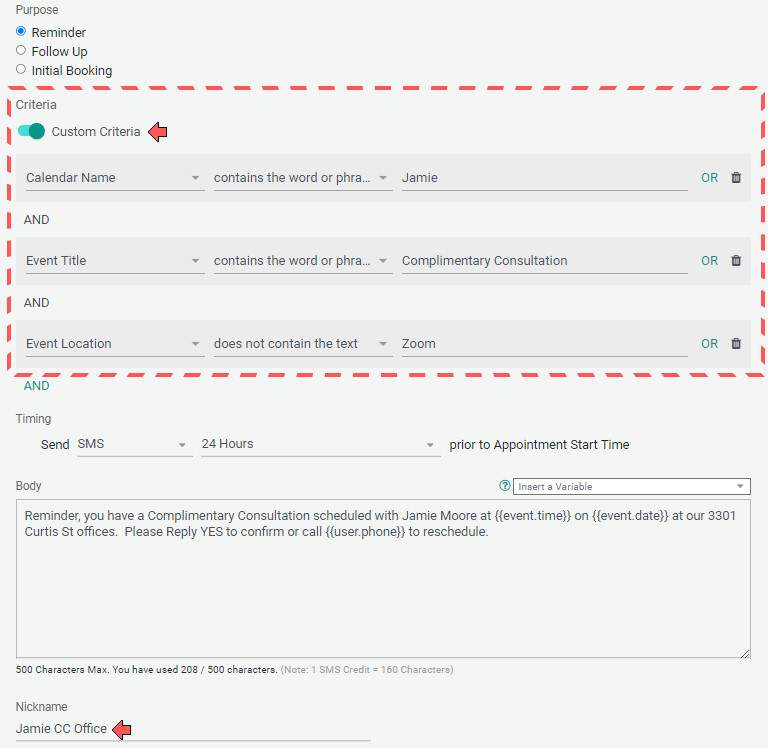 Breaking it Down

To use the Custom Criteria feature, move the Criteria slider to the right and select a Criteria from the drop-down menu. In this example, we want to make sure our client understands who they will be meeting with, so we select Calendar Name from the dropdown list.

Then we can choose from a list of conditions, in this case, Contains the Word or Phrase.

Now we include the name of the Calendar, Jamie in this example.

Next, we only want this reminder to be sent to clients for specific events, so we click on AND to create a new Criteria and add Event Title – Contains the Word or Phrase – "Complimentary Consultation".
Finally, we schedule in-person meetings and Zoom meetings and we want to make sure that the client realizes this meeting is at our office.

Once again, we click on AND to display another Criteria statement dropdown box and select Event Location. Since all Zoom meetings contain the word "Zoom" in the location field of our appointment, we select the condition, Does Not Contain the Word or Phrase in the dropdown box. When we include the word "Zoom" we ensure that appointments scheduled through Zoom will NOT receive this reminder.

We now create a text message containing information specific to this appointment, including the nature of the appointment and who the client is meeting with. We can also include a static location or use the location variable (from the drop-down menu) for outside appointments.

After the custom text, we include a Nickname to make organizing multiple reminders easy. In this example, we Nickname this Reminder, "Jamie CC Office".

If there were several people in the office and we wanted to make reminders like this for each person, we would just clone this reminder and change the first Criteria we created to reflect the name of that individual's calendar. Then just replace that person's name in the text message, create a new Nickname, and it's ready to be sent.
Advanced Criteria for Personal Reminders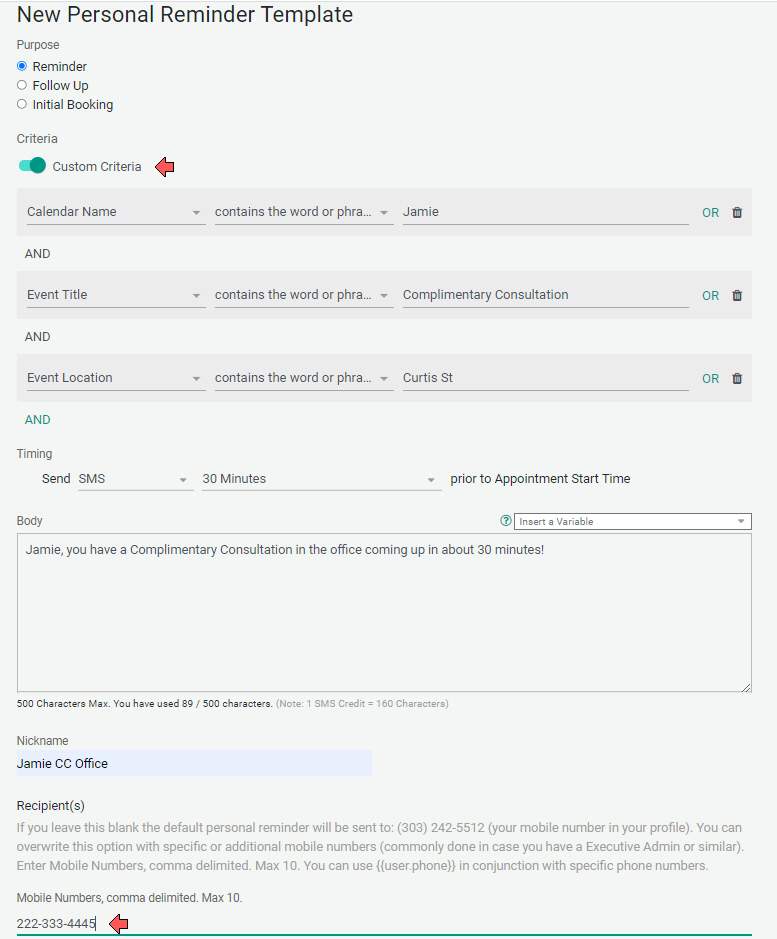 You can also use GReminders' expanded criteria for personal reminders. After including the same criteria as our Client Reminder, we would change the timing and the message, so, in this example, Jamie understands she needs to be back in the office to meet with this client. She is also reminded what type of appointment it is, so she can prepare accordingly.
At the bottom of the reminder template, include the mobile phone number of the intended recipient.
Advanced Criteria is a Powerful Tool
GReminders' Advanced Criteria for Email and SMS Appointment Reminders provides an opportunity for you to include more specific details in your reminders, helping clients prepare for their appointments with you. It also provides you more control over what event, calendar, location, etc., triggers a reminder to be sent.
If you need any help with configuring your Reminder Templates, don't hesitate to reach out to us for help.