Fall 2022 G2 Grid Reports are out, and GReminders is recognized as a G2's Best Online Appointment Software Winner.
G2, the worlds top software review site, has recognized GReminders with 9 awards, including ranking GReminders #1 in Easiest to Use in the Online Appointment Scheduling Category – beating out large industry leaders such as Calendly and Groove.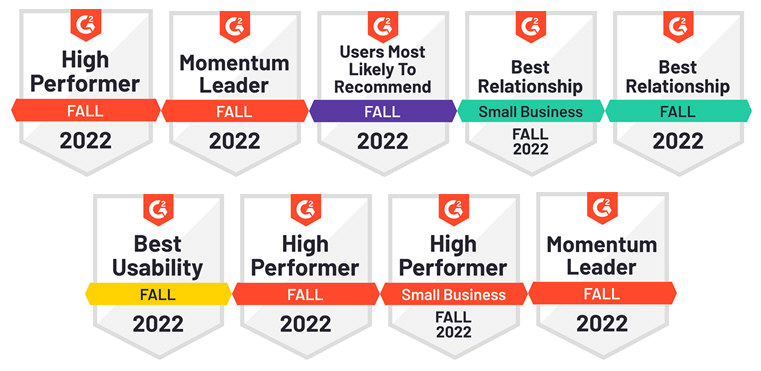 GReminders was awarded Momentum Leader, High Performer, Best Usability and Most Likely To Recommend in Appointment Reminder Software and the Online Appointment Scheduling Software categories.
GReminders is especially proud to have been awarded Best Relationship Product in Online Appointment Scheduling and Best Small Business Relationship Product for Small Business, Online Appointment Scheduling. These awards are based on our users' ease of doing business with us, quality of support, and the likelihood to recommend us to others.
Thank You!
G2 awards are based entirely on reviews from users like you. It is an honor for us to know we are helping businesses, large and small, succeed in today's competitive business environment.
If you have shared your experience using GReminders with others on G2, we thank you. If you haven't tried GReminders yet, sign up for a free trial today. We'll help you eliminate the back and forth of scheduling appointments and our automated text reminders will end your No-Show problem! Find out why our Users Love Us!
If you have any questions, don't hesitate to reach out to us here.