When sending SMS and Text Messages via a 3rd party provider such as GReminders, the phone number the message comes from is important.
Because 3rd party systems cannot "impersonate" or "spoof" your own mobile number, GReminders sends from a Pool of numbers it owns, OR you can get your dedicated number. Read more here.
This works well for the United States and Canada.
In OTHER countries OTHER than the US or Canada, GReminders has dedicated numbers it sends from. However certain countries only support "SenderID".
Note: US or Canada DO NOT support Custom Sender ID.
SenderID is a unique name that shows where the text message is "from". It could represent your Brand or Product name for example. It is typically up to 11 characters long and can contain numbers and letters.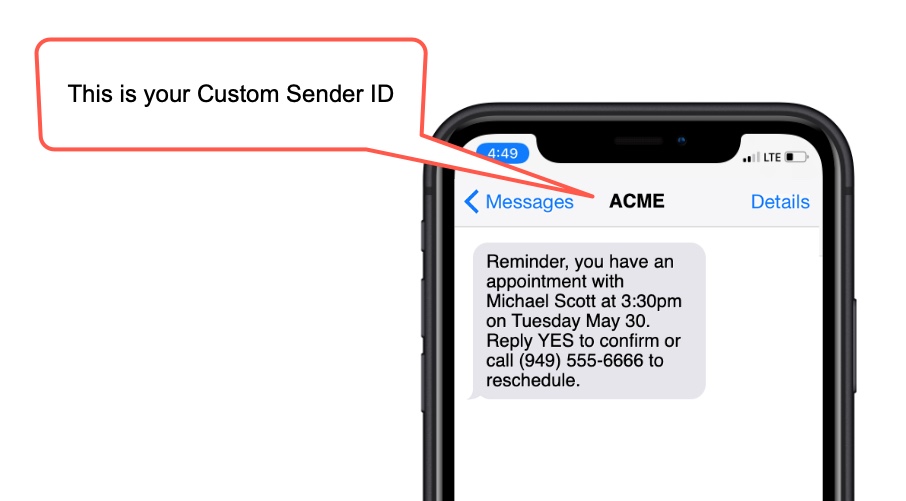 A lot of this depends on the country you are sending to.
There are tradeoffs to sending via a SenderID.
The pros are it can reinforce your Brand and its generally clear who the message came from.
The cons are that you cannot REPLY to a message sent from a SenderID. This means that you will need to use Confirmation/Reschedule Links to get responses.
Below is a list of countries that support Custom Sender IDs. Some require registration, some do not. Please inquire with [email protected] about the country you are sending to and what the specific requirements are.
Dynamic Sender ID Supported
Pre-Registration Required
Albania
Belarus
Algeria
Cuba
Andorra
Czech Republic
Angola
Egypt
Armenia
Ghana
Australia
India*
Austria
Indonesia
Bahrain
Iran
Bangladesh
Japan
Belgium
Jordan
Belize
Kazakhstan
Benin
Kenya
Bolivia
Kuwait
Bonaire, Saba, Sint Eustatius (former NL Antilles)
Nepal
Bosnia and Herzegovina
Nigeria
Botswana
Oman
Brunei
Philippines
Bulgaria
Qatar
Cambodia
Romania
Cameroon
Russian Federation
Chad
Saudi Arabia
Congo Dem. Rep.
Sri Lanka
Congo Republic
Tanzania
Cyprus
Thailand
Denmark
Turkey
El Salvador
Uganda
Estonia
United Arab Emirates
Ethiopia
Vietnam
Federated States of Micronesia
Syria
Finland
Taiwan
France
Tunisia
French Guiana
Turkmenistan
Gabon
Uzbekistan
Georgia
Venezuela
Germany
Yemen
Gibraltar
Greece
Guinea
Guyana
Hong Kong (China)
Hungary
Iceland
Iraq
Ireland
Israel
Italy
Ivory Coast
Jersey and Guernsey
Kiribati
Kyrgyzstan
Laos
Latvia
Lebanon
Libya
Lithuania
Luxembourg
Macao (China)
Macedonia
Malaysia
Maldives
Malta
Marshall Islands
Mauritius
Mayotte (FR Indian Ocean Territories)
Moldova
Monaco
Mongolia
Myanmar (Burma)
Netherlands
Nicaragua
Niger
Northern Mariana Islands (US)
Norway
Palestine
Papua New Guinea
Peru
Poland
Portugal
Reunion
Rwanda
Sao Tome and Principe
Senegal
Seychelles
Sierra Leone
Singapore
Sint Maarten (Former NL Antilles)
Slovakia
Slovenia
Solomon Islands
Somalia
South Sudan
Spain
Sudan
Suriname
Swaziland
Sweden
Switzerland
Tajikistan
Timor Leste (East)
Togo
Ukraine
United Kingdom
Uruguay
Zambia
Zimbabwe
Zambia
Zimbabwe
Please Note: Communication Legislation changes over time, to confirm this list please contact [email protected] with your specific Country sending needs to confirm.
Registration Fees may apply to certain countries.
Any questions? Please contact [email protected] for details.