If you use GReminders to allow your Customers to book a meeting with you OR you use GReminders Text Reminders to remind your customers to show up to an appointment or do some sort of follow-up notifications via SMS or Text, you will be sharing Public Links.
Currently, all Public Links by default come from greminders.com as this is the Domain we own and control.
Customers can now opt to use their OWN Custom Domain or Hostname for this.
For Example, in your reminder notifications, your messages would look like this: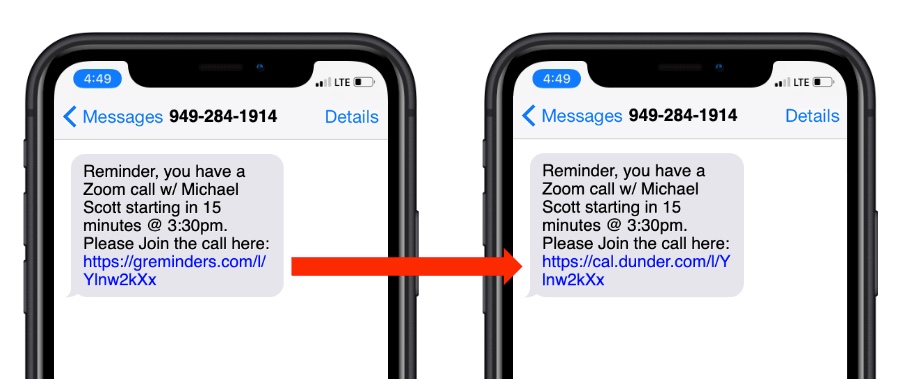 Or when sharing your Public Booking link with someone, instead of https://app.greminders.com/c/yourshortname the link you are sharing would be https://something.mycompany.com/c/yourshortname. Example: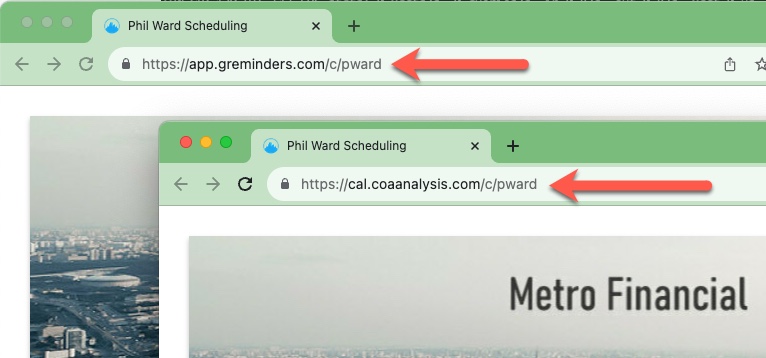 This makes your links more "personal" and gives you somewhat of a "White Label" approach to GReminders. The more we can sit in the background, the better.
Now, because SSL management takes effort and cost (this is what makes your pages secure), there is an additional cost to this service. This addon is available on the Pro and Business Plans and costs an additional $32-40/month depending if you are paying monthly or annually.
Here are the technical prerequisites:
You must have your own Domain that you control (acme.com or whatever)
You must have access to your DNS Provider (this could be GoDaddy, AWS, Azure, Cloudflare or any number of hosting providers that manage your DNS). Please contact your IT/Website Administrator if you have questions.
Your custom domain will be a SubDomain of say "acme.com". So it will look something like hi.acme.com. We suggest a "short" subdomain so that when you use it in text messages it is as short as possible.
Then you need to log in to GReminders as an Administrator. Go to Org Settings > Look & Feel. Scroll to the very bottom for Custom Hostnames and click Setup.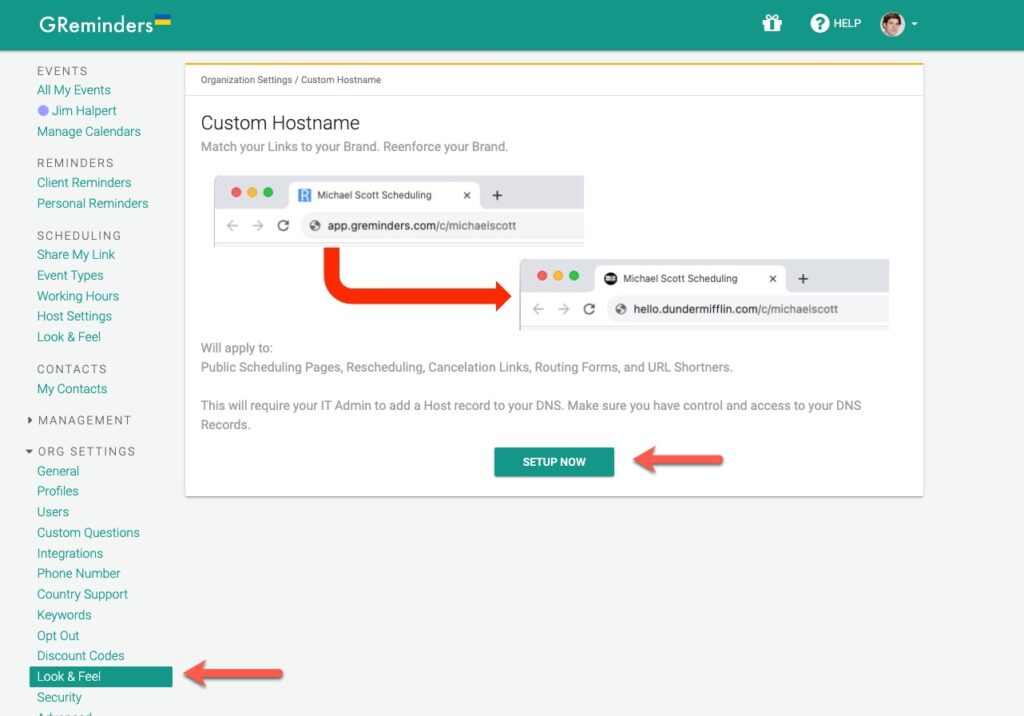 Click Setup and enter your Custom Hostname. In our example we used "cal.dunder.com"
Then hit Save
Next, you will be given instructions to add 4 DNS entries to your existing DNS. Something like this: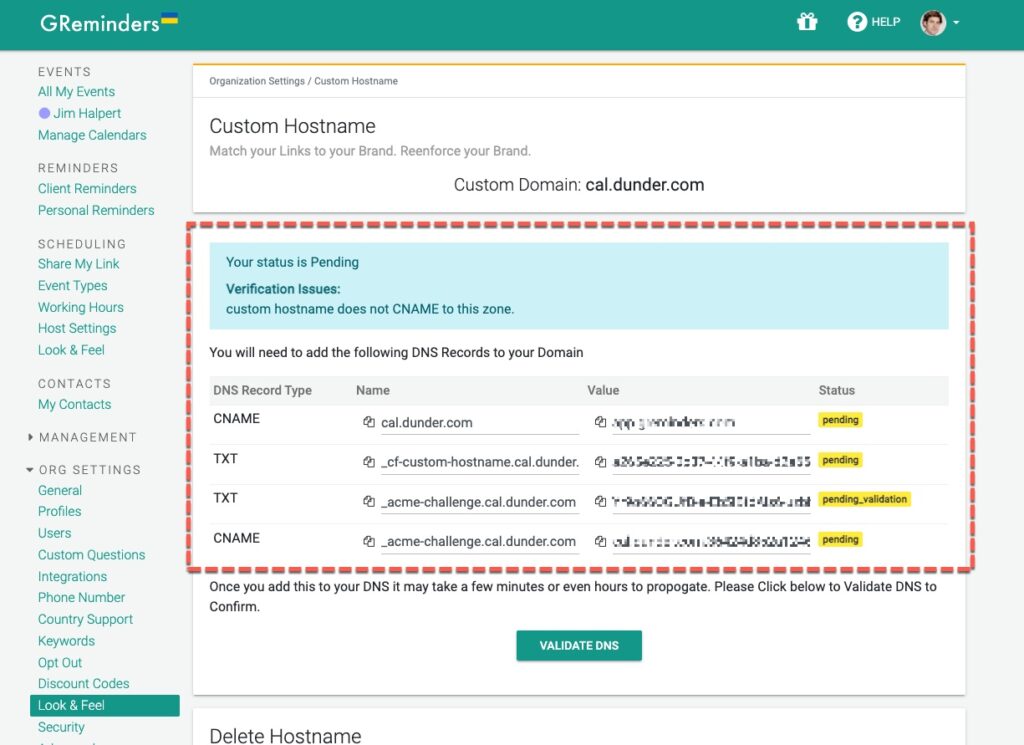 Go to your DNS Provider such as GoDaddy or whoever hosts your DNS and add these 4 DNS entries. 2 CNAME and 2 TXT entries.
Once this is complete, click on Validate DNS in GReminders.
Since DNS needs to "propagate" across the internet, it can take several minutes or hours before Validate DNS will come back with a Successful Message.
Once it does your Custom Domain is ready to go.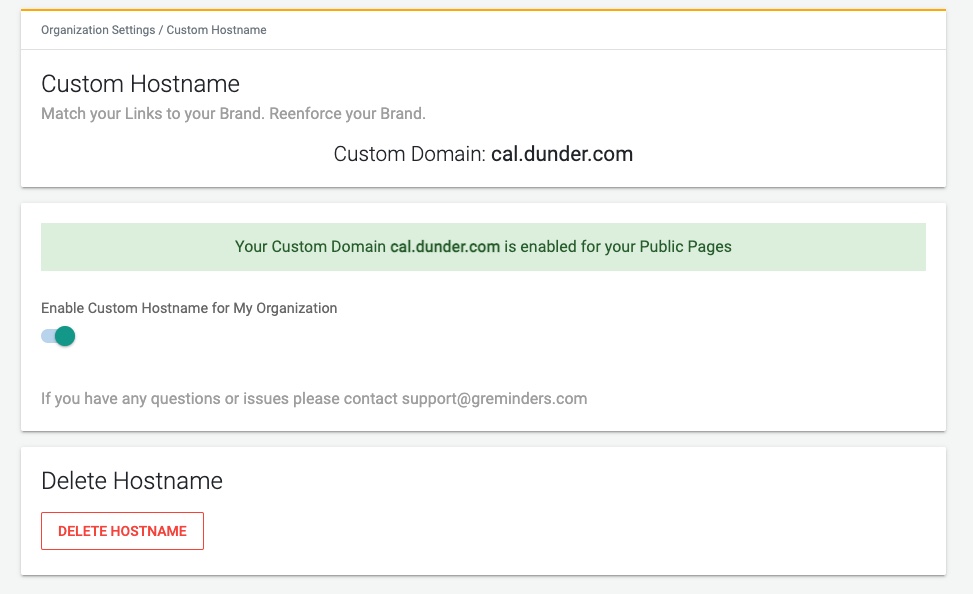 You will need to enable the custom hostname using the Toggle.
Once you do this, ALL your public links will change to your custom domain.
Old links that are out in the wild will continue to work, but you will want to update wherever you are sharing public booking pages and update the Links with the NEW URL.
If you go to your Share Link or Event Type Pages, you will see all new Links with your Custom Domain.
That's It.
Any questions please contact [email protected]
Happy Scheduling.